Apple & Banana with Beetroot
12x Holle Organic fruit puree Zebra Beet
$24.92 / kg
Organic
Biodynamic
Vegetarian
Vegan
Lactose-free
Gluten-free
In stock
17
people are viewing this right now
Guaranteed safe & secure checkout
Holle Organic Organic fruit puree Zebra Beet contains a fine purée of 100 % fruits from high quality bio-dynamic agriculture: Apple, Banana & Beetroot. The resealable pouch can serve as an ideal snack for in between. It is suitable for toddlers from 6 months onwards and does not contain added sugar or any additives.
Nutrients per 100 g
Energy kj

261

kj

Energy kcal

62

g

Fat

< 0.5

g

of which

Saturated fatty acids

< 0.5

g

Carbohydrates

13.6

g

of which

Sugar

12.3

g

Protein

0.7

g

Salt

0.01

g
Exact product designation:
Apple** 70%, banana** 20%, beetroot juice* 10% (beetroot 94%, lemon juice)
* from organic farming
**from biodynamic agriculture
Information about the manufacturer
Holle baby food AG
Lörracherstraße 50, CH-4125 Riehen
12x Holle Organic fruit puree Zebra Beet
Holle – Zebra Beet – Organic Fruit Puree with Apple, Banana & Beetroot
If you are looking for a unique blend of fruits and vegetables for your baby, then give a try Holle organic fruit puree zebra beet. It is a nutritious, appetizing, and convenient way of feeding your baby with fruits and vegetables.
Do you know Holle Organic fruit puree Zebra Beet is favorite among parents who are in the weaning boat? Yes, they are parents of six-month-old babies, and this puree is the yummiest way to introduce fruits and vegetables to babies. It is a nutritious blend of apples, bananas, and beetroot. All these fruits are sourced from organic farming. So you can expect maximum nutrition. Usually ready-made baby food is loaded with artificial ingredients, but this puree doesn't contain any artificial ingredients. No preservatives, additives, no added sugar, and salt, so this puree is fresh and wholesome.
This puree is gluten and egg free, so every baby can have this puree. Another thing worth mentioning is that this organic puree comes in pouch packaging. The resealable pouches are easy to open and store. That's why you can store remaining puree in the fridge for up to two days, without compromising its nutritional value. Moreover, you can carry this pouch easily with yourself anywhere because pouch packing is leak proof. Conscious parents who always look for wholesome ready-made baby food while traveling out can easily take this pouch. During traveling or outings, they don't have to compromise the healthy meals of the baby.
Holle – Zebra Beet – Organic Fruit Puree: Product Overview
High nutritious and made with 100% real fruits and vegetables.
Suitable for six-month babies.
Zero preparation time.
Easy storage for up to two days
BPA free packaging
No added sugar and slats
Lactose and gluten-free puree.
Gentle on a baby's stomach
Suitable as a snack and meal both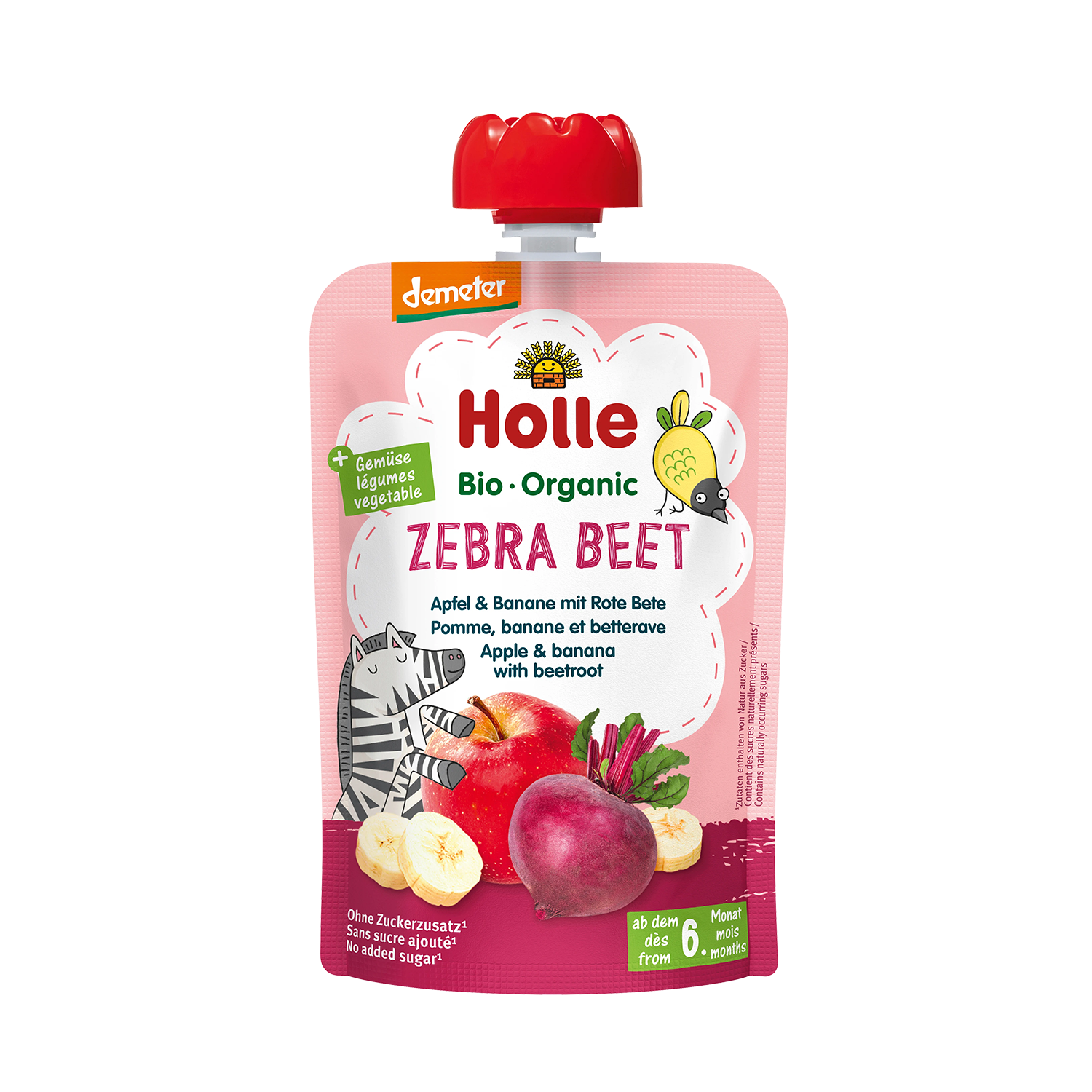 Holle Organic Fruit Puree Zebra Beet: Clean Ingredients
Most parents don't want to give their babies any ready-made food due to the high concentration of sugar and preservatives. Holle's organic fruit puree zebra beet is made of Demeter-certified ingredients. It means all ingredients are grown organically without harmful chemicals. This puree contains 70 % apples, 20% bananas and 10 % beetroot juice with lemon juice.
Apples are enriched with vitamins, nutrients, and fiber to improve gut health. Similarly, bananas are rich in bone and brain-healthy vitamin nutrients, so you can expect maximum nutrition. Beetroot with lemon juice is just icing on the cake, as it enhances the nutritional benefits of this puree. Beetroot is a super source of essential nutrients, such as folate, vitamin C, and potassium, to promote the baby's growth and development.
Moreover, this puree comes in convenient pouch packing without any preservatives and additives. No dairy and gluten is added to this puree, so babies with different dietary needs can get benefits from it.
Holle Organic Fruit Puree Zebra Beet: Top-Notch Health Benefits
Holle organic fruit puree Zebra beet offers the following health benefits to babies.
Flavor Full and Nutritious 
Zebra beet is a unique combination of beetroot apples and bananas. This puree has a pleasant taste and color. The natural sweetness of fruits makes this puree more appetizing. No extra sugar is added to make puree sweet, so your baby can enjoy the natural taste of fruits and vegetables.
Happy Tummy with Easy Digestion
Beetroot contains dietary fiber. Similarly, apples also enrich fiber, so your baby can easily digest this puree. Fiber promotes bowel movements so the baby can easily poop. It improves overall digestive extract heat and gut issues.
This puree has a good number of Antioxidants to fight against free radicals. Apple contains flavonoids, such as quercetin, which acts as a powerful antioxidant. Quercetin helps neutralize harmful free radicals in the body. Beetroot contains Phytochemical and betacyanins and betaxanthins antioxidants to fight against free radicals.
Healthy Brain Development
Beetroot contains betaine, a compound that promotes healthy brain development. Apples are also enriched with brain-healthy vitamins and nutrients. Moreover, bananas have a good amount of Vitamin B6. Vitamin B6 plays a crucial role in the production of neurotransmitters.
A Good Option to Fulfill Daily Iron Needs
Apples and beetroot are both good sources of iron. So this puree will help your baby to have some iron to fulfill daily iron needs.
Bananas also contain Magnesium, manganese, and some other bone-healthy vitamins to promote healthy bone in growing babies. Magnesium is involved in bone formation and helps regulate calcium levels in the body. Potassium prevents excessive calcium loss.
Over all zebra Beet is a highly nutritious puree that not only contains vegetables but also fruits. Your baby can easily enjoy the Holle organic fruit puree and reap the health benefits. If you are a busy parent and don't have enough time to cook wholesome meals for your baby, go for Holle organic zebra beet without hesitation. You will appreciate yourself for choosing this wholesome fruit puree. 
About Holle
Holle is a Swiss based company that has been making baby foods for 85 years. Their commitment to quality baby food shows in every product. The Holle Company is dedicated to providing babies with the best possible nutrition from the start of their lives. Holle Baby Food Company demonstrates its commitment to producing high-quality baby food by using organic ingredients.
All ingredients are Demeter-certified organic ingredients to ensure your baby gets only real fresh food. Moreover, the company also supports the sustainability and bioactive environment for the growth of fruits and vegetables. So feel confident while feeding your baby with Holle organic fruit puree.
There are no question found.