from 12 months (600g)
Holle Stage 4 – Organic Follow-On Formula
$44.83 / kg
Organic
In stock
26
people are viewing this right now
Guaranteed safe & secure checkout
Holle Organic Formula Stage 4 is a high-quality organic formula for children from 2 years. Made from the best organic ingredients, this formula is easy to digest and helps to support the natural development of your child. It contains important probiotics for a healthy gut flora and is free from additives and artificial ingredients. Holle Organic Formula Stage 4 is suitable for vegans and is made with milk from cows that are raised on biodynamic farms, following ethical and sustainable practices. This formula is a perfect choice for parents who want the best for their growing children and are looking for a natural and organic alternative to standard formula.
Contains: Lactose, Milk and milk derivatives
Nutrients per 100 ml
Energy kj

298.35

kj

Energy kcal

71.26

g

Fat

3.8

g

of which

Saturated fatty acids

1.1

g

of which

Polyunsaturated fatty acids

0.7

g

of which

Monosaturated fatty acids

2

g

of which

Docosahexaenoic acid (DHA)

15

mg

of which

Linoleic acid

5.1

mg

of which

Alpha Linolenic acid

53

mg

Carbohydrates

7.91

g

of which

Lactose / Milk Sugar

5.1

g

of which

Sugar

5.46

g

Protein

1.46

g

Vitamins

Vitamin A

50.4

µg

(0

%

**

)

Vitamin D

1.68

µg

(0

%

**

)

Vitamin E

1.4

mg

(0

%

**

)

Vitamin C

9.1

mg

(0

%

**

)

Vitamin K

5.3

µg

(0

%

**

)

Pantothenic acid

0.64

mg

(0

%

**

)

Thiamine

0.1

mg

(0

%

**

)

Riboflavin

0.18

mg

(0

%

**

)

Niacin

0.5

mg

(0

%

**

)

Vitamin B6

0.08

mg

(0

%

**

)

Folic acid

22.82

µg

(0

%

**

)

Vitamin B12

0.15

µg

(0

%

**

)

Biotin

1.82

µg

(0

%

**

)

Minerals

Potassium

91

mg

(0

%

**

)

Calcium

74.06

mg

(0

%

**

)

Phosphorus

74.06

mg

(0

%

**

)

Magnesium

7.56

mg

(0

%

**

)

Iron

0.99

mg

(0

%

**

)

Zinc

0.46

mg

(0

%

**

)

Copper

0.05

mg

(0

%

**

)

Manganese

0.01

mg

(0

%

**

)

Fluorine

0.01

mg

(0

%

**

)

Selenium

2.52

µg

(0

%

**

)

Iodine

12.88

µg

(0

%

**

)

Sodium

25.9

mg

(0

%

**

)

Further information

Chloride

50.8

mg

(0

%

**

)
** Percent of the reference amount for daily intake
Exact product designation:
Organic Follow-On Formula
Skimmed milk**¹, whey powder* (partly demineralised), vegetable oils* (palm oil*³, sunflower oil*, rapeseed oil*), maltodextrin*, starch*, calcium carbonate, oil from the microalgae Schizochytrium sp.², potassium chloride, calcium salts of orthophosphoric acid, vitamin C, L-tyrosine, sodium chloride, L-tryptophan, magnesium carbonate, ferrous sulphate, vitamin E, zinc sulphate, niacin, pantothenic acid, copper sulphate, thiamin, vitamin A, vitamin B6, manganese sulphate, folic acid, potassium iodide, sodium selenite, vitamin K, vitamin D, biotin, vitamin B12
* from organic farming
** Demeter (from biodynamic farming)
¹ 100 g of infant formula powder are made from 178 ml skimmed milk
² contains DHA (as required by the legislation for all follow-on formula) DHA contributes to the normal development of eyesight in infants. The positive effect is achieved with a daily intake of 100 mg DHA.
³ from sustainable farming
Please note the information on allergens.
Information about the manufacturer
Holle baby food AG
Lörracherstraße 50, CH-4125 Riehen
Breastfeeding is the best nutrition for your baby, because breast milk provides your child with all the essential nutrients it needs for growth and development. Please consult your pediatrician if your child requires supplemental feeding.
Holle Stage 4 – Organic Follow-On Formula
Holle Stage 4 – Nourishing Support for Your Toddler
Holle Stage 4- Organic Follow-On Formula is the most nutritious, well-balanced, and energising infant formula for your one-year-old. Children need ample nutrition to be able to start walking and running when they reach one year. Given their age requirements, they need food that can "super-charge" their bodies. Considering their needs, Holle has created Holle Stage 4– Organic Follow-On Formula that is free of preservatives, artificial sweeteners, and dyes. This European infant formula can be given in addition to solid foods to satiate your child's hunger. It has high amounts of macro-nutrients and vitamins, necessary to sustain your child's growth.
The Holle Stage 4- Organic Follow-On Formula is made with the purest cow milk under Demeter certification, that provides premium quality clean milk to your child. Demeter certification is awarded to companies that undergo biodynamic farming and sustainable approaches to producing goods. Holle is proud to be the number one Demeter manufacturer that makes top-quality infant formulas.
The Holle Stage 4 infant formula can be given to your baby after the Holle Stage 3 infant formula. You can consult your paediatrician to start giving Stage 4 formula to your baby once it crosses 12 months.
The Holle Stage 4- Organic Follow-On Formula is easy to make and offers maximum nutrition to your child. Just mix the formula in boiled water to kill the water's bacteria, test the temperature, and you are good to go.
Holle Stage 4- Feed The Best Formula
Holle Stage 4- Organic Follow-On Formula is similar to breast milk and provides the same nutritional benefits as breast milk. If your child does not take breast milk, then give it Holle Stage 4-Formula, which it will surely love.
Made with the purest and most organic ingredients.
No hormones, steroids, or additives.
GMO-free and sucrose-free products.
Made with 99% Demeter milk and 1% vegetable oil.
Promotes healthy digestion.
Has little to no side effects.
Complies with European standards.
Natural farming and fertilisation
Ideal to be used as milk but can be added to porridge.
Pertains to the highest standards of animal and plant welfare.
World-leading infant formula brand.
Manufactured in Germany.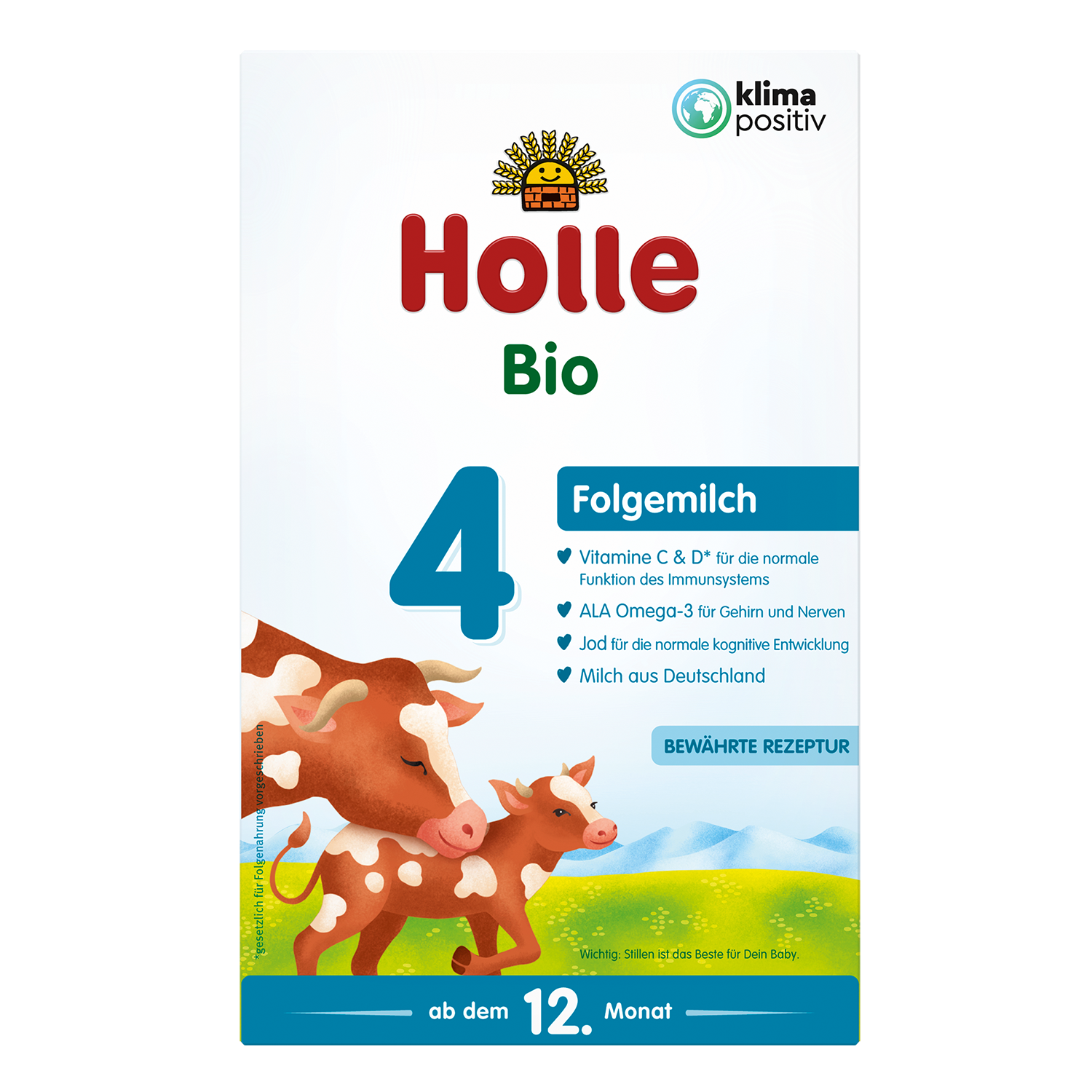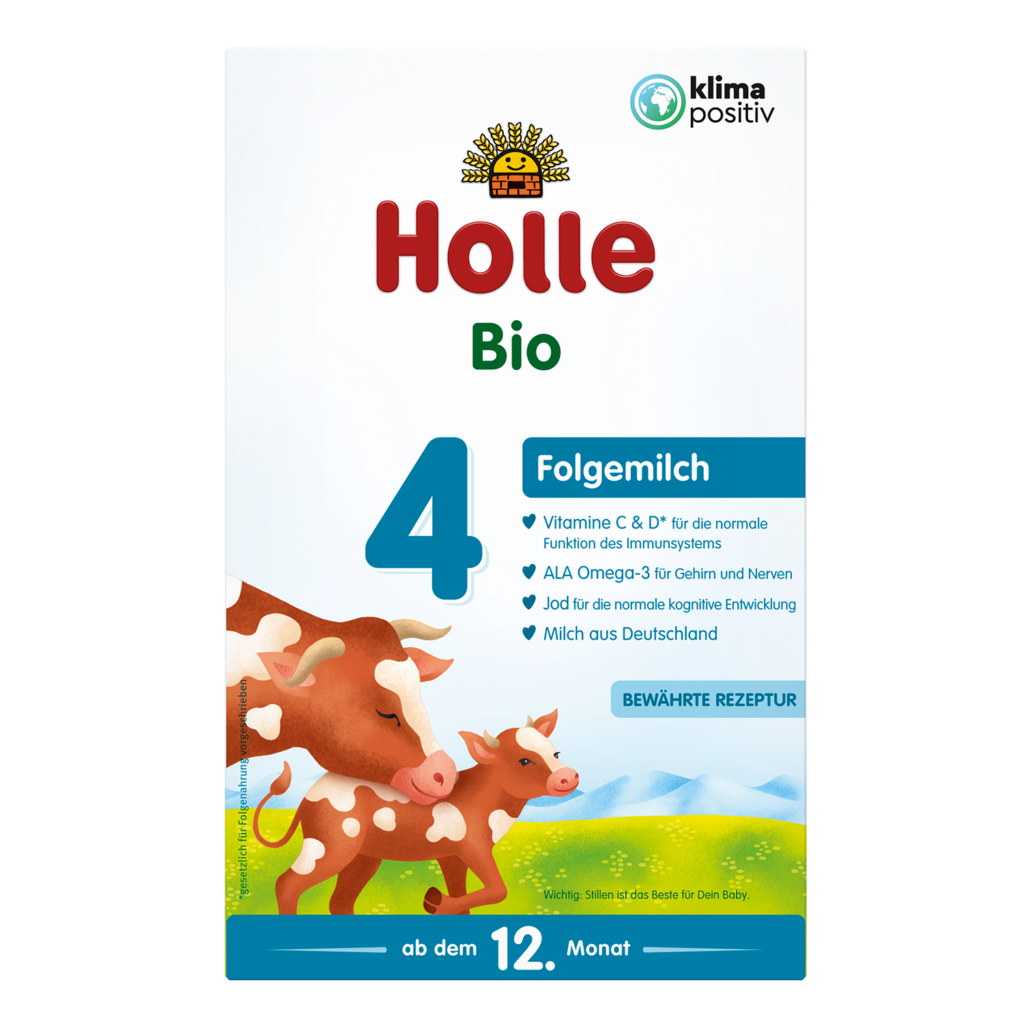 Holle Stage 4 – The Most Natural Infant Organic Formula
Breast milk contains lactose and biotin that are crucial to your child's healthy growth and development. Lactose is naturally sweet, which makes breast milk taste sweeter and tastier. Biotin improves hearing and leads to healthy growth. Holle recognises the importance of breast milk. Hence, created a formula that is a close substitute of breast milk. Your child would feel no hesitation in accepting the Holle Stage 4- Organic Follow-On Formula. The Stage 4 infant formula has been formulated to provide the best nutrition for your baby and has been designed with clean ingredients, naturally produced cow milk, and other organic ingredients.
Holle Stage 4 Infant Formula is the most natural organic formula, because it is made from 100% certified organic milk. This formula has been developed using the same process as other Holle formulas, but with one difference: it contains no artificial additives or preservatives.
The result? A baby product that allows you to be comfortable, while being gentle on your little one.
The high nutritional value of the ingredients in Holle Stage 4, means that it can be used alongside other complementary foods to support your child's growth and development during this stage of its life.
It is important to note that Holle does not encourage switching to infant formulas and forgetting breast milk altogether. We know the essence of breast milk and advise our customers to consider breast milk as the top priority for their children. The organic infant formula is specifically created for children who cannot take breast milk, and only then, Holle suggests the change to Holle Stage 4.
Holle Stage 4 – For a Healthy Start In Life
Cow milk is healthy and beneficial for small children. It contains ample amounts of calcium, iron, potassium, and magnesium that help strengthen bone mass and improve height development.
Children who take cow milk grow up to be healthy and have a well-developed brain. Realising the importance of cow milk, Holle has created the Stage 4- Organic Follow-On Formula that has all the nutrients of cow milk. The cows at Holle's farms are subject to a safe and humane milking process that produce the best cow milk in the world.
Children are full of energy and enthusiasm. The moment they start taking their first small steps, they want to run and explore the world. For that, they need nutrition that can kick-start their adventures. Holle Stage 4- Organic Follow-On Formula is made to provide children with the best nutrition. The organic infant formula is soy, GMO, and gluten-free, making it ideal for babies with allergies. The organic infant formula is also easy on the stomach and does not lead to constipation or bloating due to the presence of prebiotics and probiotics.
Holle Stage 4 is a great option for babies who are ready to start eating solid foods and need a more complex formula. The main difference between Holle Stage 3 and Holle Stage 4 is the addition of vitamin D2, which helps support a healthy immune system. Babies who are 6-12 months old will benefit from this new formula; it contains all the essential nutrients you need for your baby's growth, development, and health, from its childhood years all the way to its adulthood.
Holle Stage 4- Clean Ingredients And Naturally Produced Milk.
Clean nutrition is essential for your child's development. The healthier the diet of your child, the more physically and mentally strong they will be. Give a healthy start to your child with Holle Stage 4- Organic Follow-On Formula. This infant formula is designed while keeping your child's benefit in mind. Hence, it offers safe and healthy nutrition without affecting the baby's health. The organic infant formula contains age-appropriate calories that are sufficient for babies of 10 months to up to 3 years.
Holle Stage 4 Organic Infant Formula contains zero artificial sugar, which means it is suitable for babies looking for a healthy start in life. The ingredients used in Holle Organic Stage 4 Baby Formula are organic milk, skimmed milk powder, vegetable oil (palm oil), whey protein concentrate, lactose, inulin, maltodextrin, sunflower oil, etc.
The major ingredients in the Stage 4 organic infant formula are vitamin D, which strengthens bones, and vitamin C, which boosts the immune system and improves skin health. Vitamin B12 reduces the possibility of anaemia, and essential fatty acids such as DHA (omega-3) and ARA (omega-6) that are vital for healthy eyes, brain, and neural development.
Plant oils such as rapeseed oil, sunflower oil, and coconut oil, impart healthy fats to your child, and maltodextrin creates a thicker milk consistency. It is not present in Holle Stage Pre Organic Infant Formula as it is unsuitable for newborn babies. Maltodextrin is present in Stage 2 and above, as it satiates hunger and makes your child feel full.
The formula has been designed to meet the high-quality standards set by the European Food Safety Authority (EFSA) and contains essential vitamins, minerals, and other nutrients that are required for the healthy growth and development of your baby. The Holle Stage 4 formula is naturally high in protein, iron, and calcium, making it perfect for growing toddlers, who are developing rapidly.
There are various reasons to choose Holle Stage 4- Organic Follow-On Formula, as it has been specially formulated to provide your baby with the best nutrition possible, while also being gentle on their sensitive tummies. Our experts have carefully selected the ingredients used in this formula, and all contain nutrients that will promote healthy growth in infants, as well as help them develop into healthy adults later on! In addition, Holle products are cruelty-free, which means no animals were harmed during the production process – making them perfect for any ethical-conscious parents out there looking for safe alternatives when it comes to feeding their little ones.
Holle Stage 4 – Top-Notch Health Benefits
Holle Stage 4-Organic Follow-On Formula offers supreme nutrition to your children. It comprises many nutrients and essential minerals that offer a litany of health benefits to your child such as:
Contains DHA and ARA fatty acids which are essential for healthy development.
Comprises calcium and vitamin D necessary for bone and teeth development.
Contains vitamin C and vitamin B12, which boosts immunity.
Is completely free of artificial sweeteners and additives.
Made with Demeter-certified organic milk.
Is GMO-free, soy-free, and gluten-free infant formula.
Meets strict European standards and regulations.
Contains maltodextrin that makes the baby feel full for a long time.
Improves digestion and nutrient absorption.
Contains 99% Demeter milk with only 1% of vegetable oils that impart maximum nutrition.
Offers easy and instant preparation
Manufactured in Germany under strict European standards.
Has no additional dyes or colours.
Holle Stage 4 and Humane Animal Treatment
Holle considers animals' welfare to be a topmost priority. Hence, it maintains the highest standards and employs techniques that do not hurt animals. The cows are fed natural grass and hay without any injections or additives. They are bred on grass pastures in a healthy environment. Humane treatment of cows helps Holle to produce the highest quality organic milk. The ingredients used within the formula are completely natural and added after extensive analysis and research. They are not treated with any artificial fertilisers. Holle believes in a natural diet, hence, it creates 100% natural infant formulas. We believes in quality over quantity; hence we strictly object to the use of artificial ingredients..
Due to its safe practices, Holle has been awarded Demeter certification, which is the best certification awarded to companies complying with European standards. This certification allows Holle to maintain the highest standards of animal protection, and utilise biodynamic farming. You want what is best for your child, so we ensure that you give the best infant formula to your growing child.
Holle Stage 4 – About Holle
Holle was established in 1934 in a Swiss town. Since its inception, Holle has been striving hard to produce the best quality infant formulas and baby foods. There are many infant formula manufacturers in the world, but the thing that differentiates Holle from them, is Demeter certification. Demeter certification is awarded to very few companies that fall under strict European regulations. Holle takes pride in being the first Demeter certified Company.
Holle utilises a holistic approach that considers plants, animals, and humans alike. We use biodynamic farms, and employ sustainable machinery that allows us to produce state-of-the-art infant formulas. Domestic animals are treated with utmost care and are not subject to unfair treatment. They are given hormone-free food without injections to produce the most natural milk. The health of the animals is a top priority, because the milk they are producing directly impacts your child's health.
It is vital to know the major difference between American and European formulas. The European formulas are much better and healthier than the American brands, due to strict European standards. These European standards entail the use of organic feed, lack of artificial fertilisers or pesticides, ban on genetic engineering, and prohibition of antibiotics. All these measures are undertaken by Holle, which allows the company to create European standard organic infant formulas.
Another thing to note is that European brands use fewer ingredients that are organically sourced. Also, European brands contain age-appropriate ingredients as opposed to American brands that use the same ingredients for all ages. Doing so, the child's health is impacted.
Moreover, Holle has eliminated all unsustainable operations and has employed sustainable measures to reduce its carbon emissions, and make earth a better place. In 2022, Holle has finally gotten rid of CO2 emissions and our efforts for sustainability exist due to strict European standards. Due to our extensive efforts, Holle has been nominated for the German Sustainability Awards 2023.