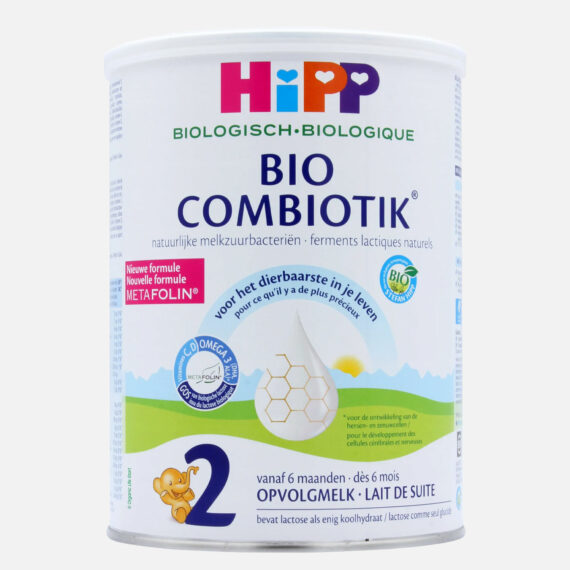 from 6 month (800g)
HiPP Dutch Organic Combiotic Stage 2 – Follow-On Formula
$51.13 / kg
Only
90
items left in stock!
15
people are viewing this right now
Guaranteed safe & secure checkout
Hipp Dutch Organic Combiotic Stage 2 is a top-selling formula for infants 6 months and older. Specially formulated for the Dutch market, this formula is easy to digest and gentle on your baby's digestive system. It is free from additives and artificial ingredients and produced to high quality standards. This combiotic formula provides a balanced and complete source of nutrition for your older infant, and contains probiotics and prebiotics to support the development of a healthy digestive system. Parents looking for a natural and nutritious option for their infant will find Hipp Dutch Organic Combiotic Stage 2 a reliable and popular choice.
Contains: Fish and fish derivatives, Milk and milk derivatives
Exact product designation:
Organic Skim Milk, Organic Lactose, Organic Vegetable Oils [Organic Palm Oil, Organic Rapeseed Oil, Organic Sunflower Oil], Organic Whey, Organic Galacto-Oligosaccharides (obtained from Organic Lactose), Fish Oil, Calcium Chloride, Potassium Citrate, Calcium Salts Of Orthophosphoric Acid, Calcium Carbonate, L-Tyrosine, L-Tryptophan, Sodium Citrate, Magnesium Carbonate, Vitamin C, Iron Sulfate, Lactic Acid, L-Cystine, Niacin, Zinc Oxide, Lactic Acid Culture [Hereditum® Lactobacillus Fermentum CECT5716], Vitamin E, Pantothenic Acid, Copper Sulfate, Vitamin A, Vitamin B1, Vitamin B6, Potassium Iodate, Metafolin (Calcium L-Methylfolate), Sodium Selenate, Manganese Sulfate, Vitamin K, Vitamin D, Biotin.
Please note the information on allergens.
Information about the manufacturer
HiPP GmbH & Co. Vertrieb KG
D-85273 Pfaffenhofen
Breastfeeding is the best nutrition for your baby, because breast milk provides your child with all the essential nutrients it needs for growth and development. Please consult your pediatrician if your child requires supplemental feeding.

HiPP Dutch Organic Combiotic Stage 2 – Follow-On Formula
HiPP Dutch Organic Combiotic Stage 2 – from 6. month
HiPP Dutch Stage 2 is suitable for babies 6-12 months. This combiotic and biodynamic baby formula is gentle and nourishing for all babies — complete with all essential vitamins and minerals. For infants, HiPP formula can supplement and complement breastmilk.
HiPP Dutch Stage 2 follow-on formula does not contain any gluten or starch, which might result in easier digestion in the early stages of their development. This formula is the perfect follow-on from HiPP Dutch Organic Formula Stage 1
HiPP Dutch Stage 2 formula is made in Germany and meets all EU organic criteria. Unlike competing brands, HiPP formula meets strict standards. All HiPP formulas are completely free from GMO ingredients and synthetic preservatives and nutrients.