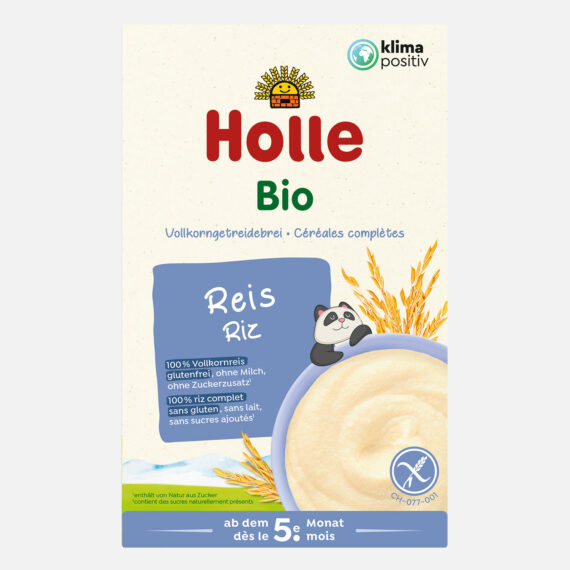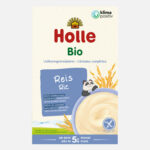 from 5 months (250g)
Holle Organic Rice Wholegrain Porridge
$39.60 / kg
Organic
Vegetarian
Vegan
Lactose-free
Gluten-free
In stock
14
people are viewing this right now
Guaranteed safe & secure checkout
The wholegrains used in Holle Porridges are in an easily digestible form, which is particularly suitable for babies. The goodness of the grain is gently unlocked with heat and moisture ready for your baby's growing body. Using the wholegrain means we can retain the most nutrients.
Nutrients per 100 g
Energy kj

1626.67

kj

Energy kcal

398

g

Fat

3.4

g

of which

Saturated fatty acids

1

g

Carbohydrates

80.4

g

of which

Sugar

0.8

g

Fiber

3.1

g

Protein

7.8

g

Salt

0.01

g

Vitamins

Thiamine

1.13

mg

(0

%

**

)

Minerals

Sodium

0.01

mg

(0

%

**

)
** Percent of the reference amount for daily intake
Exact product designation:

Organic wholegrain porridge for babies
Wholegrain rice flour*, thiamin, (required by EU law)
*from organic farming
Please note the information on allergens.
Information about the manufacturer
Holle baby food AG
Lörracherstraße 50, CH-4125 Riehen
Holle Organic Rice Wholegrain Porridge
Holle Organic Wholegrain Porridge with Rice
Holle Organic Rice Wholegrain Porridge is a nutritious and organic option specifically designed for weaning babies. It offers a gentle introduction to solid foods and provides essential nutrients for your little one's growth and development.
Made from Organic Wholegrain Rice
The porridge is made with organic wholegrain rice, which is easily digestible and gentle on your baby's stomach. Rice is known for its mild flavor and smooth texture, making it an ideal choice for early weaning stages. That's why most parents choose Holle Organic Rice Wholegrain Porridge for early weaning. Holle baby food prioritizes the use of high-quality ingredients, and this rice wholegrain porridge is no exception.
Ideal For Gluten-Sensitive Babies
It contains hundred percent organic rice whole grains, ensuring that your baby receives pure and clean nutrition without any additives or artificial ingredients. Moreover, it doesn't contain any gluten, so babies having gluten sensitivity can enjoy it.
Without Any Harmful Ingredients
It is free from added sugars, salt, or any unnecessary additives, making it a wholesome choice for your little one's diet. Moreover, this Holle Organic Rice Wholegrain Porridge is ideal for stay-at-home or busy parents; both can benefit from its hassle-free preparation and ideal nutritional value.
Parents Can Adjust the Consistency According to The Baby's Age
Additionally, as a weaning food, Holle Organic Rice Wholegrain Porridge is easily prepared by mixing the porridge with your baby's preferred milk. You can use formula and breast milk as suitable options. You can adjust the consistency by adding more or less liquid, depending on your baby's developmental stage and preferences. At the initial stage, you can make it in running consistency. So it is an ideal baby-weaning companion in all aspects.
Creamy consistency on preparation
Simple organic rice porridge
Suitable for weaning
Easy to prepare without any additional steps
Easy to digest even in early weaning
You can pair it with Holle's organic fruit purees for additional taste
No artificial ingredients like additives and preservatives
No added sugar and slats
No artificial flavor enhancers
Gluten-free, so ideal for babies with gluten sensitivity
Working Clean Ingredients of Holle Organic Wholegrain Porridge with Rice
Holle organic rice wholegrain porridge is made of all clean ingredients, as Holle believes that every baby should get maximum nutrition without harmful ingredients.
Organic And Demeter Certified Whole Grains Rice
All the ingredients are Demeter-certified ingredients, which means rice is grown without any pesticides and fertilizers. The wholegrain nature of the rice used in this porridge means that it retains its outer bran layer, which contains valuable dietary fiber, vitamins, and minerals. This helps support healthy digestion and provides essential nutrients for your baby's overall well-being.
Suitable For Delicate Little Tummies
This porridge offers a smooth and creamy texture, allowing your baby to gradually transition to more textured foods as they continue their weaning journey. The mild taste of rice makes it a versatile base that can be easily combined with fruits or vegetables to introduce new flavors and expand your baby's palate.
Fortified With Additional Thiamine
Overall, Holle organic rice wholegrain porridge is a nutritious and suitable option for weaning babies. With its organic wholegrain rice, gentle flavor, and easy digestibility, it provides a nourishing start to your baby's solid food journey. Additionally, it comes with thiamin, and you know this vitamin improves the nutritional value of this rice porridge.
Health Benefits of Holle Organic Rice Wholegrain Porridge
Holle Organic Rice Wholegrain Porridge offers the following health benefits to little babies.
First of all, this Rice porridge is gentle on a baby's developing digestive system. It is easily digestible and less likely to cause any discomfort or digestive issues. No bloating and gas issues with a little tummy.
Rice provides a modest amount of Protein that is essential for the development and repair of cells, tissues, and organs.
This Holle organic rice porridge contains several vitamins, including B vitamins such as Thiamine, riboflavin, and B3. These vitamins play important roles in the metabolism of energy and the functioning of the nervous system.
This rice porridge contains additional Thiamine. Thiamine plays a key role in converting carbohydrates from food into energy. In addition, Thiamine helps to produce hydrochloric acid in the stomach, which aids food digestion.
This porridge is made of rice flour that comes from whole rice grains. That's why it has dietary fiber content and improves bowel movements.
Rice contains minerals like magnesium, phosphorus, and selenium. These minerals are necessary for healthy bone development and proper nerve function.
Last but least, You can top up the rice porridge with Holle organic fruit puree also to make it more flavorful, and it also adds nutritional value.
Holle Organic Wholegrain Porridge with Rice – About Holle
Established in 1933, Holle has long-standing expertise in producing organic and biodynamic baby food. They've spent decades perfecting ingredient selection and recipes tailored for young children's nutrition.
Holle emphasizes preserving the natural essence of ingredients in their production, ensuring infants receive high-quality food. A defining feature of Holle is their commitment to organic, Demeter-certified options. This dedication is seen across their products, notably in the Holle Organic Rice Wholegrain Porridge.
This porridge is an excellent choice for babies starting weaning, being gentle and nutritious. It's a convenient solution for busy parents seeking quality nutrition. Those who try this porridge will find it satisfying.