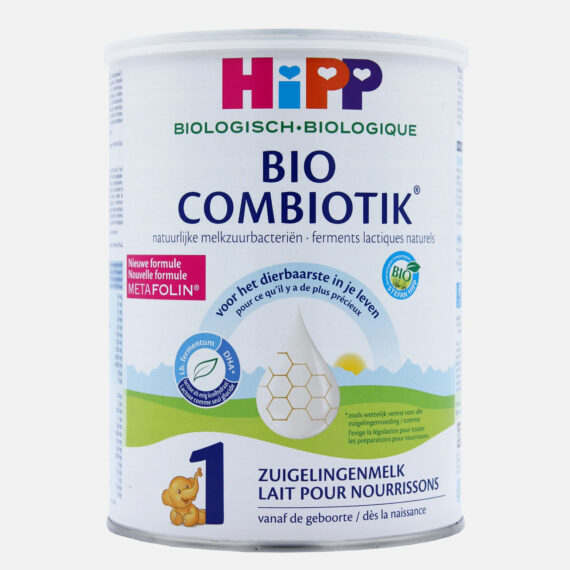 from birth (800g)
HiPP Dutch Organic Combiotic Stage 1 – Infant Formula
$51.13 / kg
In stock
15
people are viewing this right now
Guaranteed safe & secure checkout
Hipp Dutch Organic Combiotic Stage 1 is a top-selling formula for newborns and infants. Made specifically for the Dutch market, the formula is easy to digest and gentle on your baby's digestive system. It is free from additives and artificial ingredients and produced to high quality standards. Combiotic formula provides a balanced and complete source of nutrition for your baby. It contains probiotics and prebiotics, which support the development of a healthy digestive system. Overall, Hipp Dutch Organic Combiotic Stage 1 is a reliable and popular choice for parents looking for a natural and nutritious option for their baby.
Contains: Fish and fish derivatives, Milk and milk derivatives
Exact product designation:
Organic Skim Milk, Organic Whey, Organic Vegetable Oils [Organic Palm Oil, Organic Rapeseed Oil, Organic Sunflower Oil], Organic Lactose, Organic Galacto-Oligosaccharides (Obtained From Organic Lactose), Whey Protein, Fish Oil, Calcium Chloride, Potassium Citrate, Choline, Mortierella Alpina Oil (ARA), Sodium Citrate, L-Phenylalanine, Calcium Salts of Orthophosphoric Acid, Magnesium Sulfate, L-Tryptophan, Zinc Sulfate, Iron Sulfate, Lactic Acid, Vitamin C, Lactic Acid Culture [Hereditum® Lactobacillus Fermentum CECT5716], Vitamin E, Niacin (Vitamin B3), Pantothenic acid (Vitamin B5), Copper Sulfate, Calcium Carbonate, Vitamin A, Vitamin B1, Potassium Iodate, Vitamin B6, Metafolin (Calcium L-Methylfolate), Sodium Selenate, Vitamin K, Manganese Sulfate, Vitamin D, Biotin, Vitamin B12.
Please note the information on allergens.
Information about the manufacturer
HiPP GmbH & Co. Vertrieb KG
D-85273 Pfaffenhofen
Breastfeeding is the best nutrition for your baby, because breast milk provides your child with all the essential nutrients it needs for growth and development. Please consult your pediatrician if your child requires supplemental feeding.

HiPP Dutch Organic Combiotic Stage 1 – Infant Formula
Hipp Dutch Stage 1 – The Perfect Start for Your Baby's Nutritional Journey
HiPP Dutch Stage 1 Combiotic Infant Milk Formula is the most nutritionally enriching Dutch organic infant formula that provides your baby the nutrition it needs to thrive. Designed specifically for babies from birth up to six months, the HiPP Dutch Stage 1 formula now contains Metafolin, a compound naturally found in breast milk that helps increase infant folate levels. You can safely choose HiPP Dutch Stage 1 Combiotic Infant Milk Formula as a supplement to breast milk, due to its similar texture, composition, and consistency. The Dutch organic infant formula is made with 100% natural ingredients, vitamins, minerals, and nutrients that help your baby grow fit and healthy. The best aspect of the whey-based HiPP formula is that it is gentle on babies' stomachs and does not cause any allergies, as it is free of gluten, soy, eggs, starch, or added sugars.
HiPP Dutch Stage 1 Combiotic Infant Milk Formula is designed for babies that cannot take breast milk or for mothers who want to switch to infant formulas voluntarily. You must consult your pediatrician before switching to infant formulas, as breast milk is still the best source of infant nutrition. 
The HiPP Dutch Stage 1 formula is quite easy to prepare and can be used to prepare porridge or bottled milk. Give your baby HiPP Dutch Stage 1 Formula today and see the visible difference in their health.
HiPP Dutch Stage 1 Combiotic Infant Milk Formula is extremely popular with parents who want the best for their babies. It is also a great option if you are looking to avoid genetically modified ingredients and preservatives in your baby food.
HiPP Dutch Stage 1 – The Best Feed Formula
HiPP Dutch Stage 1 Combiotic Infant Milk Formula offers wholesome nutrition to babies allowing them to grow up healthy and happy.
Made with organic and 100% natural milk.
Ideal for babies from birth up to 6 months.
Nutritionally complete Dutch organic formula
100% Free of GMOs, steroids, and hormones formula
Meets the highest standards of animal welfare.
Complies with the stringent EU regulations.
Contains ample amounts of Metafolin.
Offers easy digestion and instant absorption.
Replicates breast milk.
Easy to prepare formula.
Contains essential fatty acids, DHA and ARA.
Made with locally sourced organic ingredients.
Ideal to use as bottled milk or porridge.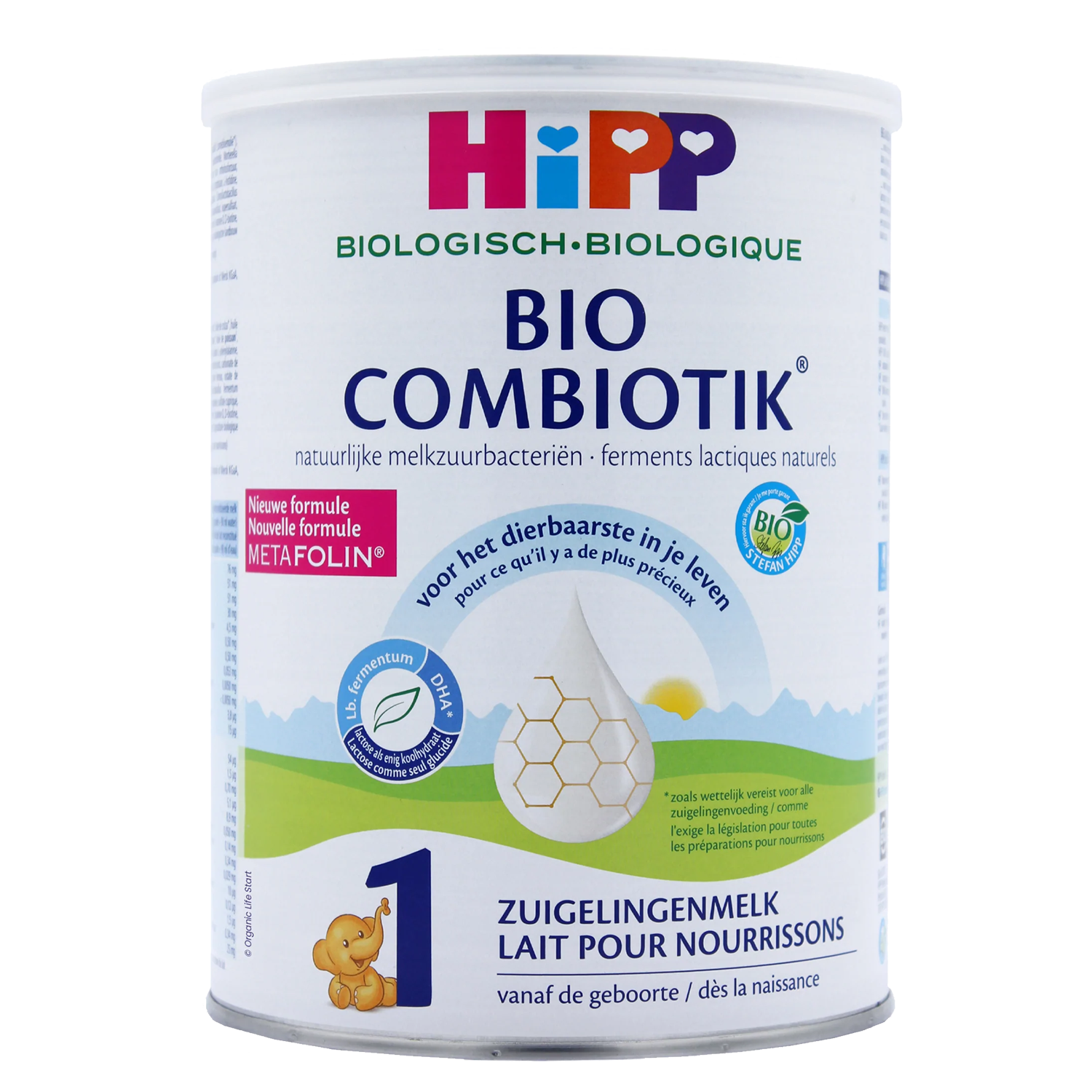 Hipp Dutch Stage 1 – Clean Ingredients And The Highest Level Of Sustainability
HiPP Dutch Stage 1 Combiotic Infant Milk Formula contains the right mix of minerals, nutrients, and vitamins that aid in healthy growth and development. This has been made possible with EU certification, which only allows specific ingredients to be added to organic infant formulas. The ingredients of the formula are derived from organic, pesticide, and herbicide-free soil, allowing the nutrients to be free of any chemical impurities. This gives the babies access to authentic nutrition.
Organic milk is derived from cows that are bred on natural grass and fed a natural diet. They are not given any hormonal treatments and are kept in their natural habitat. This makes the cows produce 100% natural and organic milk, which is given to babies as it is.
The ingredients in the HiPP Combiotic formula are vitamins A, D, C, B6, B1, and B12, calcium, iron, biotin, maltodextrin, lactose, and essential fatty acids. Maltodextrin helps impart creamy and thick consistency to the formula, which makes your baby feel full for a long time. Lactose is a natural sweetener found in breast milk, making the formula taste similar to breast milk. This helps the babies accept the organic infant formula easily. Calcium and vitamin D strengthen bone and teeth development. Vitamin A prevents blindness in babies under five years. Vitamin C boosts immunity and improves the skin barrier. Vitamin B1 aids in muscle development. Vitamin B12 prevents iron deficiency and anemia in babies. Vitamin B6 promotes healthy nervous system development. The essential fatty acids DHA and ARA promote visual acuity and brain development. Biotin converts fats and proteins into energy and is naturally found in breast milk. The formula also contains prebiotics and probiotics that promote a healthy gut. Moreover, it also contains immune-boosting galactooligosaccharides found in lactic acid.
Hipp Dutch Stage 1 – For A Healthy Start In Life
Infants need ample nutrition to get a healthy start in their life. Getting healthy food and good nutrition during their early years will help them become stronger and healthier as they grow up. That is why HiPP Dutch Stage 1 Combiotic Infant Milk Formula contains vital nutrients that will help your baby be fit in no time. HiPP uses milk from healthy cows grazing on organic meadows, and it contains vegetable oils, whey, organic lactose, essential fatty acids like DHA and ARA, and vitamin supplements. HiPP Dutch Stage 1 Combiotic Infant Milk Formula is rich in vitamins, minerals, and natural ingredients and is free of allergenic proteins. It is perfect for infants with allergies and those who face issues digesting milk. HiPP Dutch Stage 1 Combiotic Infant Milk Formula contains probiotics and prebiotics that aid in smooth digestion and prevents your baby from facing any digestive issue. The GMO-free, gluten-free, and soy-free infant formula is the holy-grail solution for your child's nutritional needs. If you want your dear baby to grow healthy and strong, you must give it HiPP Dutch Stage 1 Combiotic Infant Milk Formula. Give HiPP a try, and you will not be let down. It is a win-win choice for both babies and parents.
Hipp Dutch Stage 1 – Top-Notch Health Benefits
Being a mom of an infant or a six-month-old, you want to make the right decisions and choose the best formula for your dear baby. And that is why you need HiPP Dutch Stage 1 Combiotic Infant Milk Formula, as it has an extensive list of health benefits for your baby. Take a look at the following top-notch benefits of this Dutch formula.
Made with 100% EU-certified organic milk that boosts your baby's health.
Helps with easy digestion and absorption of nutrients
Helps to provide all the necessary vitamins and minerals your child needs
Calcium and vitamin A promote healthy teeth and bones
Helps to reduce the risk of allergies
Provides a great source of essential fatty acids
Makes your child feel full for a longer time.
Helps to strengthen the immune system.
Metafolin prevents folate deficiency.
Prevents bloating and stomach issues.
Vitamin B12 prevents anemia and iron deficiency.
Vitamin B1 promotes muscle development in babies.
Vitamin C boosts the immune system and improves the skin barrier.
Vitamin A improves eyesight and prevents blindness.
Makes your baby healthy and fit in no time.
Hipp Dutch Stage 1 – Comparison Of US Formula And European Formula
Learning about the differences between European and American brands is vital to better understand their composition and health benefits. The first difference is in the composition of the ingredients in European and American brands. European brands add limited ingredients in the formulas, whereas American brands add limitless ingredients. At the same time, it may seem that American brands are better as they contain more ingredients, but it is not true. European brands add only ingredients that are suitable for a particular age group. They avoid adding ingredients that may impact a baby's health, such as guar gum, soy, etc., that are harmful to newborns. Such a scenario is not seen in American brands, as they contain endless ingredients regardless of the age group. 
The second difference lies in sweeteners. European brands add lactose as a primary carbohydrate and natural sweetener since it is found in breast milk. Also, the European Union Commission requires that infant formulas must contain at least 30% of lactose as a primary source of carbohydrates. The commission also allows other carbohydrates such as maltodextrin, glucose, glucose syrup, and maltose. Another thing to note is that sucrose can only be added to those formulas that contain hydrolyzed proteins. Sucrose should make up 20% of total carbohydrates. Furthermore, these carbohydrates must be derived from gluten-free sources. American brands, on the other hand, have no such regulation. They add sucrose and corn syrup which are not suitable for babies. 
The third difference is in the composition. European brands have divided the formulas into age groups such as Stage 1, Stage 2, Stage Pre, etc. These broken-down formulas contain age-appropriate ingredients. For example, maltodextrin is not found in Stage-Pre formulas, whereas it is found in Stage 1, Stage 2, Stage 3, and above. American brands have no such measures. They have a one-size-fits-all approach. The formula made for Stage 2 is the same as Stage Pre.
The fourth difference is in the fatty acid composition. European formulas must contain DHA and ARA fatty acids due to their innumerable health benefits. American brands consider these fatty acids a voluntary choice. European brands also add prebiotics, such as Lactobacillus in breast milk. American brands do not add these prebiotics and probiotics. 
The fifth difference is in the iron composition. European brands add a minimum of 0.2 mg of iron in formulas, whereas American brands add at least 1 mg of iron. This is not good for babies as higher iron composition leads to neurodevelopment effects later in life. Moreover, European brands also have separate goat milk formulas for babies. American brands do not have goat milk formulas. 
HiPP Dutch Stage 1 – Humane Animal Treatment
At HiPP, animal welfare and environmental sustainability are at the forefront of their priorities. Their cows, the source of the milk used in the HiPP Dutch Stage 1 Combiotic Infant Milk Formula, are raised in accordance with strict European Union regulations. These regulations prioritize the safety and well-being of the cows, which are protected from harmful dehorning practices and subjected to safe milking procedures.
The farms that HiPP partners with also place a strong emphasis on environmentally responsible manufacturing practices. They avoid the use of harmful pesticides and herbicides, instead opting for natural fertilizer, such as compost, to maintain the fertility of the soil. This fertile soil provides the optimal growing conditions for the ingredients used in HiPP's formula, ensuring that each batch is of the highest nutritional value.
HiPP's commitment to humane animal treatment and environmental sustainability is further demonstrated by their focus on preserving the health of the land, which is crucial for producing high-quality, nutritious ingredients for their infant formula.
Hipp Dutch Stage 1 – About HiPP
HiPP is a pioneer in producing organic and biological raw materials worldwide. It was founded by Claus Hipp, a baker who solved his twins' feeding issues by combining rusk flour with milk. He gradually started his organic farms with one goal: providing healthy and organic nutrition to babies. HiPP is loved by parents worldwide due to its authentic and nutritious baby foods and organic infant formulas. With more than 100 years of experience, HiPP is a proud brand of sustainability and authenticity. They undergo Ethics Management to prevent soil corrosion.