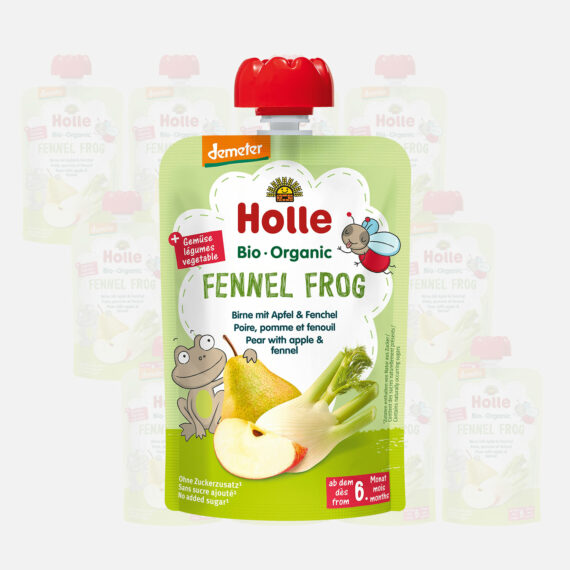 Pear & Apple with Fennel
12x Holle Organic vegetable puree Fennel Frog
$24.92 / kg
In stock
25
people are viewing this right now
Guaranteed safe & secure checkout
It's really hard to choose the right baby food when there are baby foods loaded with artificial flavors and colors. Let me tell you about a nourishing and organic Holle Organic vegetable Puree fennel frog. This organic puree is best for babies and toddlers to fulfill their daily nutritional needs. You can use it as a snack or meal for maximum nutrition and satiety for babies.
Nutrients per 100 g
Energy kj

239

kj

Energy kcal

56

g

Fat

< 0.5

g

of which

Saturated fatty acids

< 0.5

g

Carbohydrates

11.5

g

of which

Sugar

9.3

g

Protein

0.6

g

Salt

0.011

g
Exact product designation:
Organic fruit puree with vegetables
Pear ** 80%, apple ** 10%, fennel * 10%*from biodynamic farming** Demeter (From biodynamic agriculture)
Please note the information on allergens.
Information about the manufacturer
Holle baby food AGLörracherstraße 50, CH-4125 Riehen
12x Holle Organic vegetable puree Fennel Frog
Holle – Fennel Frog – Organic vegetable puree with Pear, Apple & Fennel
Holle Organic vegetable Puree fennel frog comprises pear, apple, and fennel. It is a great choice for parents who are always worried about food digestion or their babies suffering from some digestive issues. Fennel has great digestion properties. It makes a great combination of pear and apple. Both pear and apple have a great amount of fiber, so it is great to relieve constipation and also improve bowel movements.
In addition, Holle Organic vegetable Puree fennel frog comes in convenient and resalable pouches. So you can use it according to your needs and store the rest of the puree easily. Now you don't have to need an additional pot to store it, just seal the pouch again, and that's it.
Ideal for parents who are juggling between home and office and don't have enough time to cook meals for babies. They can use this Holle Organic vegetable Puree fennel frog with full confidence. It is vegan, dairy free, and without any harmful ingredients. So it is versatile to suit all the dietary needs of babies.
Holle – Fennel Frog – Organic vegetable puree: Product Overview
Three simple but organic ingredients
Unsweetened formula without artificial colors and flavors
Improve your baby's overall well being
Yummy in taste and gentle on the tummy
Improves digestion and resolves gut issues
Keep safe babies from bloating and gas
BPA-free resealable pouches
Instant satiety and satisfaction.
Suitable for meals as well as snacks.
You can easily store it in the fridge.
Holle – Fennel Frog – Organic vegetable puree: Clean Ingredients
Parents are always looking for ideal baby food without any harmful ingredients to feed their babies. Finding such baby food in the market was quite impossible, but now you can have a great blend of fennel, pear, and apple. Holle Organic vegetable Puree fennel frog consists of natural, organic, and diameter fruits and vegetables. It is ideal for babies even for wearing and also to fill a holder's meal needs.
The great thing about Holle Organic vegetable Puree fennel frog is that it is without any artificial color flavor or preservatives. No artificial thickening agents are used in this puree, so this puree is in its natural consistency. Diary-free, pure vegan so it is ideal for all babies who have different dietary needs. Clean and organic ingredient form biodynamic agriculture makes this puree gentle on the tummy and improves digestion.
Fennel is the magic ingredient, and it contains enzymes to improve gut health and resolve bloating or gas issues. Similarly, apples and pears are great sources of vitamins and fiber. It improves bowel movements, and ultimately, you have a happy tummy, baby.
Holle – Fennel Frog – Organic vegetable puree: Top-Notch Health Benefits
Holle Organic vegetable Puree fennel frog has the following benefits. Its ingredients are wholesome and full of vitamins and minerals. Fennel Improves digestion and gut health in babies because it contains compounds that have a calming effect on the digestive tract muscles. Fennel has a specific mild taste to it to improve the puree's taste.
Gentle on the tummy, so No bloating or gas issues. Good for colic babies
Apples are a good source of fiber and vitamins, so it helps to relieve constipation issues.
Vitamin A improves skin and promotes healthy vision.
Fruits and fennel have an Antioxidant fight against the free ridicule and keep the cell safe from damage.
Pears improves bowel movements due to its fiber content
Vitamins C in pears and apples boost immunity against different viruses and bacteria.
Holle – Fennel Frog : About Holle & Final Wording
Holle is a Swiss company and in the baby food market for more than 80 years. That's why no other baby food company can beat their expertise and experience in baby foods. They offer a wide assortment of baby foods, from purees to cereals, and you can select according to age and your baby's favorite flavor.
Holle believes in sustainability and environment-friendly products. That's why all their ingredients, including fruits and vegetables, are real, organic, and Demeter-certified. All Baby foods are free from all artificial ingredients such as preservatives, additives, and sugar. That's why all baby food products are in line with their mission of providing the best nutrition to all babies.
Over, the fennel frog is a great choice for babies who have digestion and gas issues. Moreover, if your baby likes the taste of this puree, then go for it without hesitation. Yes, you are choosing the right Holle organic veggie puree for your baby, and it is wholesome.
There are no question found.