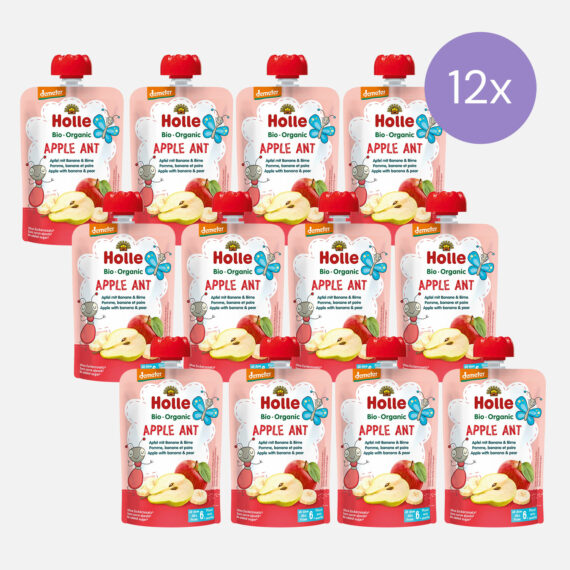 Apple & Banana with Pear
12x Holle Organic fruit puree Apple Ant
$24.92 / kg
Organic
Biodynamic
Vegetarian
Vegan
Gluten-free
In stock
Use code WELCOME for additional 6% Discount
14
people are viewing this right now
Guaranteed safe & secure checkout
You want to introduce your baby to apples, so try Holle organic fruit puree apple ant. It is the yummiest way to introduce apples to your baby. It is an appetizing and wholesome fruit puree to fulfill daily nutritional requirements. Perfect for weaning and the right meal or snack for your toddler.
Nutrients per 100 g
Energy kj

218

kj

Energy kcal

52

g

Fat

< 0.5

g

of which

Saturated fatty acids

< 0.5

g

Carbohydrates

11

g

of which

Sugar

11

g

Protein

0.4

g

Salt

0.01

g

Minerals

Sodium

0

mg

(0

%

**

)
** Percent of the reference amount for daily intake
Exact product designation:
Apple** (60%), banana** (20%), pear** (20%)
** Demeter (From biodynamic agriculture)
Information about the manufacturer
Holle baby food AG
Lörracherstraße 50, CH-4125 Riehen
12x Holle Organic fruit puree Apple Ant
Holle – Apple Ant – Organic Fruit Puree with Apple, Banana & Pear
Holle organic fruit puree consists of 60 percent apples, 20 % bananas, and 20 % pear. You can use it as a healthy and delicious snack that your baby can enjoy on the go. Look no further than Holle Organic apple ant Puree, featuring the delightful flavor of organic apples, bananas, and pears. This puree is made with only the highest quality and Demeter-certified organic ingredients. This Puree is perfect for babies whose parents want to snack on something that's both tasty and nutritious.
Apple and Puree come in convenient pouch packing. Open the cap and take the Puree that you want to feed the baby, and close the cap. It is so simple to store the remaining Puree; you don't need any extra things to do, just reseal the pouch and keep it in the refrigerator. Air-tight sealing and BPA-free pouch packing keep the Puree fresh till the next use, so you don't need to worry about the freshness of the Puree.
No added sugarSugar Sugar is the sweet essence children often crave, providing instant energy for their play-filled moments.Though… or saltSalt: Salz ist zwar ein Grundnahrungsmittel in unserer Küche, doch muss es unseren Kindern in einem… to improve the taste, so feel satisfied you are feeding your baby with 100 percent real fruits. It is best as a snack between meal times, or even you can use it as a proper meal.
Holle – Apple Ant – Organic Fruit Puree: Product Overview
Simple organic and 100 % real fruit puree
Original  consistency without any artificial thickening agent
No artificial colors and flavor enhancers
No preservative
Gluten-free and lactose-free Puree
Gentle on tummy
Helps to fulfill daily national needs
BPA-free and resalable pouches
Easy to store in the refrigerator for up to 2 days
Holle Organic Fruit Puree Apple Ant: Clean Ingredients
Parents are always conscious when they choose any ready-made baby food. They are conscious about the ingredients, how they are sourced, and what artificial ingredients baby food has. Holle organic apple and fruit puree are made of 100 % organic fruits. They are grown in biodynamic environments without any pesticides or herbicides.
Apples have a good amount of fiberFiber: Fiber is the guardian of tiny tummies, promoting smooth digestion and overall gut health.This digestive… to make this Puree easy to digest. Pear is a good source of folate, an important nutrient for brain development. So this Puree will nourish your baby with folate for better cognitive development. Pears are also rich in vitamins and minerals such as vitamin C and potassium to ensure better growth. The fiber in pear and bona improves digestive health and keeps your babies from constipation. Banana also gives this Puree creamy consistency to make it more enjoyable for babies.
Holle Organic Fruit Puree Apple Ant: Top-Notch Health Benefits
Holle Organic Apple and Fruit Puree is a delicious snack. It's also a convenient way to give a daily dose of fruits to your baby. It offers the following health benefits
This organic fruit puree can help you to maintain hydration
Instant snack to achieve satiety in babies
Apples are a good source of vitamin a

Vitamin A: Vitamin A, often referred to as the "vision vitamin," is indispensable for our children's…

Pears are low in allergens and prevent babies from developing allergies later in life.
The fiber

Fiber: Fiber is the guardian of tiny tummies, promoting smooth digestion and overall gut health.This digestive…

in apples, bananas, and pears improves digestion and regulates bowel movements
Vitamin C in apples and pears promotes immunity against bacteria and viruses
All fruits in Puree have a good amount of vitamin B to boost energy and brain functions
Riboflavin also improves health
Bananas are a good source of potassium and Manganese. Both promote bone and muscle health.
Magnesium improves the metabolism
Sugar-free and no artificial flavor enhancers, so you are feeding your baby with real and organic fruit puree
Holle Organic Fruit Puree Apple Ant: About Holle and Final Verdict
Holle is a Swiss based company that has been making baby foods for 85 years. Their commitment to quality baby food shows in every product. The Holle Company is dedicated to providing babies with the best possible nutrition from the start of their lives. Holle Baby Food Company demonstrates its commitment to producing high-quality baby food by using organic ingredients. All ingredients are Demeter-certified organic ingredients to ensure your baby gets only real fresh food. Moreover, the company also supports the sustainability and bioactive environment for the growth of fruits and vegetables. So feel confident while feeding your baby with Holle organic fruit puree.
Holle organic fruit puree apple ant is an example of a company's dedication to quality baby food. Apple and Puree have simple, organic fruits without any harmful ingredients. So whether you are an out or a stay-at-home parent, this Puree will be your baby's best nutritional buddy. Use this Puree as a snack, as a meal or pour it on porridge; it's up to you.
There are no question found.