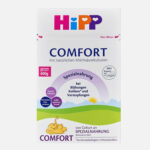 from birth (600g)
HiPP German Comfort – Colic Support Formula
$61.50 / kg
Only
71
items left in stock!
15
people are viewing this right now
Guaranteed safe & secure checkout
Hipp Comfort Special Milk Formula is a reduced lactose infant formula for babies who have difficulty digesting milk sugars. It is made with a combination of easily digestible plant-based oils, proteins, and carbohydrates. This formula may be helpful in reducing the occurrence of bloating, colic, and constipation that can sometimes be associated with lactose intolerance or difficulty digesting milk sugars. The formula is easy to digest and is fortified with essential vitamins and minerals to support healthy growth and development.
Contains: Fish and fish derivatives, Milk and milk derivatives
Nutrients per 100 ml
Energy kj

276

kJ

Energy kcal

66

g

Fat

3.6

g

of which

Saturated fatty acids

1.6

g

of which

Polyunsaturated fatty acids

0.6

g

of which

Monosaturated fatty acids

1.4

g

of which

Docosahexaenoic acid (DHA)

13

mg

of which

Linoleic acid

470

mg

of which

Alpha Linolenic acid

50

mg

Carbohydrates

7

g

of which

Sugar

3

g

of which

Starch

1.5

g

Fiber

0.3

g

of which

Galactooligosaccharides (GOS)

0.3

g

Protein

1.25

g

of which

L-Carnitine

1.2

mg

of which

Taurine

0.6

mg

Vitamins

Vitamin A

54

µg

(0

%

**

)

Vitamin D

1.5

µg

(0

%

**

)

Vitamin E

0.7

mg

(0

%

**

)

Vitamin C

8.9

mg

(0

%

**

)

Vitamin K

5.1

µg

(0

%

**

)

Pantothenic acid

0.34

mg

(0

%

**

)

Thiamine

0.05

mg

(0

%

**

)

Riboflavin

0.051

mg

(0

%

**

)

Niacin

0.34

mg

(0

%

**

)

Vitamin B6

0.029

mg

(0

%

**

)

Folic acid

10

µg

(0

%

**

)

Vitamin B12

0.1

µg

(0

%

**

)

Biotin

1.5

µg

(0

%

**

)

Salt

0.05

g

Minerals

Molybdenum

2.3

g

(0

%

**

)

Potassium

76

mg

(0

%

**

)

Calcium

51

mg

(0

%

**

)

Phosphorus

30

mg

(0

%

**

)

Magnesium

4.5

mg

(0

%

**

)

Iron

0.6

mg

(0

%

**

)

Zinc

0.5

mg

(0

%

**

)

Chrome

0.7

g

(0

%

**

)

Copper

0.053

mg

(0

%

**

)

Manganese

0.005

mg

(0

%

**

)

Fluorine

0.005

mg

(0

%

**

)

Selenium

3.8

µg

(0

%

**

)

Iodine

15

µg

(0

%

**

)

Sodium

20

mg

(0

%

**

)

Further information

Choline

25

mg

(0

%

**

)

Inositol

4.2

mg

(0

%

**

)

Chloride

59

mg

(0

%

**

)

Milk sugar*

2.7

g

(0

%

**

)
** Percent of the reference amount for daily intake
Exact product designation:
Food for special medical purposes (balanced diet)
Lactose, Maltodextrin, Vegetable Oils (Palm Oil**, Rapeseed Oil, Sunflower Oil), Starch, Beta-Palmitate(1) (From Palm Oil And Sunflower Oil), Hydrolyzed Whey Protein, Galactooligosaccharides From Lactose, Calcium Orthophosphates, Emulsifier Citric Acid Esters Of Mono- And Diglycerides Of Fatty Acids, Potassium Chloride, Fish Oil, Choline, M. Alpina Oil, L-Phenylalanine, L-Tyrosine, Potassium Hydroxide, Magnesium Chloride, Sodium Citrate, Sodium Hydroxide, L-Arginine, Calcium Carbonate, L-Histidine, Calcium Chloride, L-Tryptophan, Inositol, Ferrous Sulfate, L-Carnitine, Zinc Oxide, Pantothenic Acid, Natural Lactic Acid Culture (Lactobacillus Fermentum Hereditum®(2)), Niacin, Vitamin E, Copper Sulfate, Vitamin A, Vitamin B2, Vitamin B1, Potassium Iodate, Vitamin B6, Metafolin (Calcium L-Methylfolate), Sodium Selenate, Vitamin K, Biotin, Vitamin D, Manganese Sulfate, Vitamin B12
(1) Special Structured Fat, Oriented on Mother's Breastmilk
(2) Lactobacillus Fermentum CECT5716
** Organic palm oil from sustainable cultivation certified by independent inspection bodies
Please note the information on allergens.
Information about the manufacturer
HiPP GmbH & Co. Vertrieb KG
D-85273 Pfaffenhofen
Breastfeeding is the best nutrition for your baby, because breast milk provides your child with all the essential nutrients it needs for growth and development. Please consult your pediatrician if your child requires supplemental feeding.

HiPP German Comfort – Colic Support Formula
HiPP Comfort Special Formula – Designed to sooth small stomachs.
The first few weeks of your baby's life are sensitive. You have to pay attention to what they eat, what they wear, and what they are exposed to. What they eat is the most important if you ask us because that's where the HiPP Comfort Special Milk comes in. While your child is trying to get used to what he or she eats, there's usually trouble with digestion and flatulence. The HiPP Comfort Special Formula is made with a special formula that positively influences how your child digests it.
As your baby's digestive system is still in its development process, only the best should be fed. HiPP Comfort's formula was meticulously formulated to solve gassy situations, lactose related 3-months colic and constipation in children. This special formula effectively works to tackle the causes of Colic in babies. Babies with sensitive digestive systems usually suffer from high constipation, flatulence and colic. All of these are directly related to the breast milk or formula your baby is consuming.
This special organic baby formula contains prebiotics and probiotics specifically created to model the ones in human breast milk.
The Galacto-oligosaccharide in this baby formula is derived directly from lactose, so they pass into your infant's colon undigested. They help to increase both their bowel mass and promote the development of good bacteria in the digestive system. That's why they are perfect for colic and digestive disturbances in babies.
What does HiPP Special Comfort Milk do for your infant?
If you're struggling with an infant who has dietary inabilities, the HiPP Comfort Special Comfort- Colic Support formula helps to soothe your baby's discomfort with ease. The special formula of this milk aids your baby's digestive system, for adequate digestion and softening of their stool.
HiPP Special Comfort-Colic Support has a special formulation that works to regulate the bowel movement of infants and loosen their stool. The milk has a reduced lactose formula so it cannot be substituted completely for other baby formulas.
This comfort formula contains less lactose than many of the other HiPP formulations out there. The HiPP special comfort formula was created with extra care and based solely on hydrolyzed whey protein. Hydrolyzed whey protein has a smaller protein structure, that is very similar to the protein structure of human breast milk. The lactose contained in the HiPP formula acts as a source of carbohydrates for your infants, with ease of com lesser processing time in the system.
If your baby Is prone to developing allergies, the HiPP Comfort formula is a perfect fit for your infant, even though it was not specifically created as hypoallergenic baby formula. The HiPP Special Comfort- Colic support organic baby formula from Europe is different from HiPP's hypoallergenic HA PRE 1 and HiPP's hypoallergenic HA PRE 2.
The Hipp special Comfort Formula has a unique breastmilk-like fat that adds to its overall great taste in the baby's mouth and boosts your baby's health. Unlike other baby formulas made with vegetable fat, HiPP broadens the source of its fat to include vegetables and fish oils as organic sources of ARA and DHA. ARA and DHA are the essential fatty acids your baby needs to develop fully and healthily.
The fat is known as beta palmitate and it is responsible for better calcium absorption, healthier bone density and overall healthier growth in babies. It is the perfect substitution and addition to breast milk for babies with digestive unrest. HiPP Comfort Special Milk– Colic Formula perfectly models after the breastmilk and allows your baby to grow healthy and strong while helping to settle any problems they may have with flatulence, stooling and digesting.
HiPP Comfort Special Milk – Feed the Best Formula
HiPP Comfort Special Milk is a special formulation formula that contains only special ingredients with a positive impact on the digestive functions of your infant from birth.
Made with hydrolyzed protein that has been proven to bring about lesser crying and lesser gastro-intestinal symptoms with every use.
Has a rich concentration of Omega 3 and 6 (LCPs) and nutritious DHA.
Sweetened solely by lactose (the only milk sugar found in the human breastmilk) in all stages
Promotes better vision and brain development thanks to the presence of essential fatty acids DHA and ARA
It is the only infant Comfort Formula formulated with prebiotic dietary fibers and Lactobacillus fermentum.
Reduced lactose content
Perfect for the dietary management of Constipation and Colic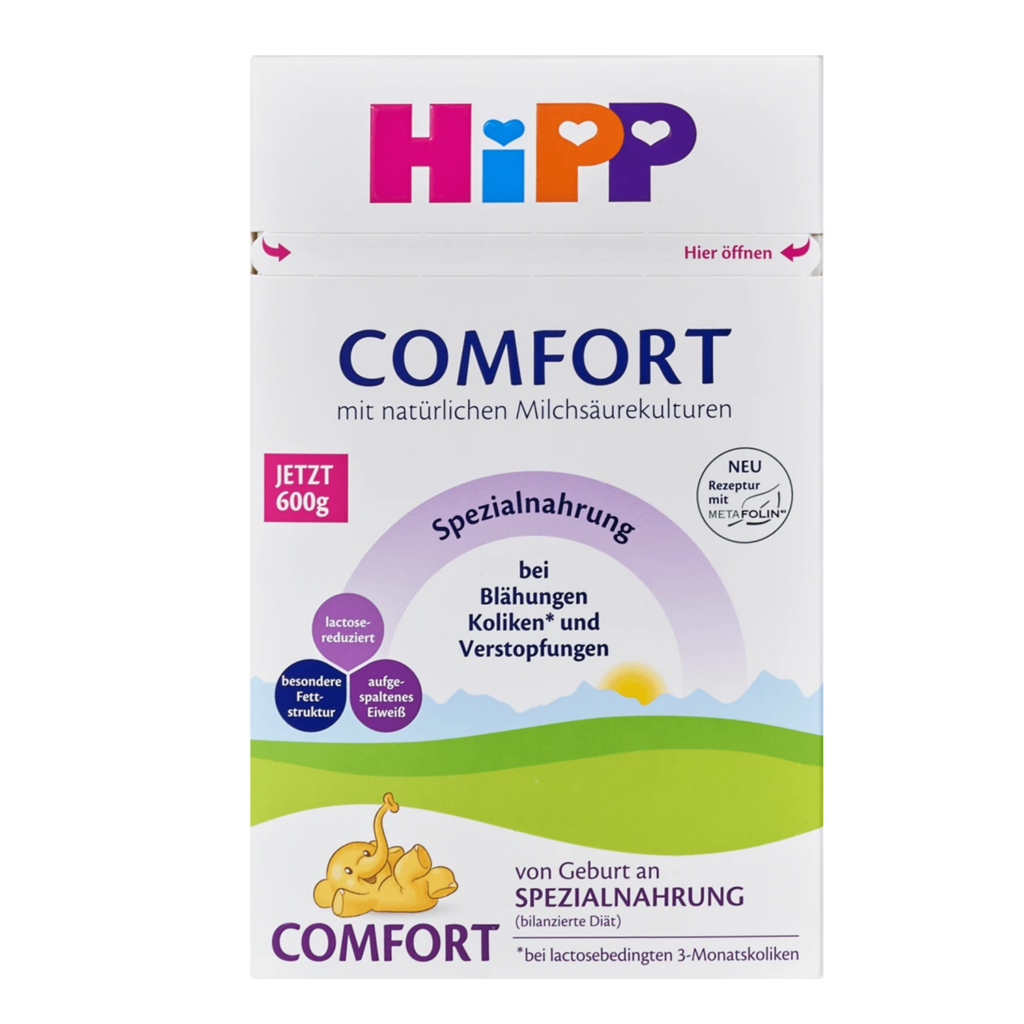 What makes the HiPP Comfort Special Milk Special?
If you're looking to give your baby the best formula there is HiPP is your best option. Their attention to detail is top-notch! The HiPP Comfort Special Milk- Colic support is a European baby formula that is more milk-based compared to baby formulas from the US. Mothers prefer this formula for their babies because of the organic ingredients used and the high standards required for its formulation.
The European Union is in charge of setting the standards for food consumed in Europe. Their standards for baby food are high but HiPP consistently exceeds their standards. In America, the FDA (Food and Drug Administration) is in charge of regulating food standards for infants.
Both of these bodies are in charge of issuing the approval required for selling baby formulas in the country. The FDA sets the standard for minimum requirements of baby food in the US and the EU sets the standard for European baby foods and the ingredients they contain. Both bodies have almost the same requirements for what to include in baby food but the EU's guidelines are tighter.
Corn syrup and corn syrup solids are the primary sources of carbohydrates in US baby foods but they are not on the list of allowable sources of carbohydrates in the EU. The EU requires all the carbohydrates in instant baby formulas to come from at least 30% lactose. Lactose is the main source of carbohydrate in human breast milk but US formulas contain little to no percentage of it.
This is why mothers feel more confident in their baby formula from Germany or Europe.  HiPP goes above and beyond the standard by additionally using only organic products for their formulas, including the HiPP Special Comfort Formula.
HiPP Comfort Special Milk Colic Support Formular – Organic ingredients
This baby formula was created with the best purely organic skimmed milk gotten from cows farmed in strict conditions. The cows are fed only an organic diet, with no genetic modifications or stimulations. Organic galacto- oligosaccharides (GOS), directly sourced from only organic lactose and Omega 3 LCPs that are sourced sustainably are added to the milk to promote;
Brain development
Development of the Nervous system
Relieve the symptoms of constipation
Promote healthy bowel functions
Boost cognitive development
Reduce the chance of your baby developing an irregular heart beat
Healthier, faster and safer growth for infants
Another important ingredient used in HiPP's comfort special Milk colic support formula and much of their other baby formula is Docosahexaenoic acid gotten from fish oil. DHA is also an important Omega 3 acid that promotes a better function of your baby's nervous system.
Other sustainable ingredients used by HiPP in the formulation of this baby formula include Palm oil which is a healthy source of palmitic acid. A great acid found in natural breast milk that aids a baby's development and growth. The palm oil used is only sourced from plantations using sustainable methods of farming in line with HiPP's own personal standard and which is certified by the Rainforest alliance.
HiPP German Comfort – High Standards of Sustainability
More than anything, HiPP is environmentally conscious and constantly working to reduce its carbon footprints on the earth. Their production site in Germany is mainly powered by green energy. They didn't start this now, their sustainable means of producing HiPP formulas has been on since the 90's.
HiPP's follow-on milk factory in Germany is the first ever milk factory in the world to receive a certification for being carbon-neutral! If you're an environmentally conscious mum, you can confidently choose HiPP for your baby knowing that you are contributing to efforts to make the planet a better place.
With the HiPP Special comfort formula, you can rest assured that you're using a special formula that meets your baby's unique needs. Give your baby the best with this specially formulated formula, you will see and taste the difference.
HiPP Comfort Special Formula – The Best Standard
The main ingredient in the HiPP Comfort Special milk formula is skimmed milk and whey protein gotten from cows. Not just regular cows, HiPP takes pride in the sustainable way in which they grow and raise their cows. The milk is gotten from cows specially raised according to strict biodynamic farming methods.
HiPP is an organic baby formula from Europe that has established itself in the industry as reliable, consistent and trustworthy when it comes to baby formulas. They have a long history of formulating organic baby products in Germany, Europe at large and the UK. For over 60 years, HiPP has been organically farming and producing baby formula which exceeds the EU requirements.
They are certified organic by all the regulatory bodies in the UK and EU, so parents rely on them for quality above all else. No HiPP baby formula has synthetic ingredients that can stunt or negatively affect your baby's growth which is why it is the preferred brand by mothers all over Europe and the UK. The European Union has very strict standards for the formulation of baby foods. Some things you can commonly find in US baby foods like corn syrup or guar gum are highly prohibited, so they are never used in HiPP baby formulas of all stages.
This organic baby formula makes use of organic ingredients grown through biodynamic agricultural practices. Biodynamic agricultural practices focus on maintaining the harmony between animals, the land and their impact on the community. HiPP follows strict purity standards that even exceed the ones set by the European Union. Their standard meets and exceeds all the requirements put in place by the EU for European organic baby formulas.
The standards set by the EU exceed even the US standards for organic baby foods and formulas. This is why mothers decide to choose HiPP for their babies. Everything that goes into formulating every HiPP baby formula is completely organic and natural, promoting healthier growth and development.  It is the only European baby formula that uses probiotics and prebiotics to help the baby's digestive process, relieve constipation and improve the baby's overall health.
The only thing that is not organic in the HiPP Comfort Special is the protein hydrolysate and this is because protein hydrolysate is not available in organic form. This protein aids your baby's development and recovery process after a minor illness. This helps to boost their immune system. Organic farming and sustainability are at the center of everything HiPP does. They strongly believe that organic products are the best for babies and for the planet.
HiPP Comfort – Highest animal welfare standard
HiPP follows the strictest animal welfare rules for feeding, rearing and caring for their farm animals. These rules are monitored by the company's Agric engineers and vets, who do a daily job of making sure everything is in place.
Like it should be naturally, the cattle are kept in pastures and forests all year long. Surrounded by lush green plants and pastures where they feed from and grow. Growing the cattle this way helps keep them healthy, and strong. In the cold months, the cattle are fed hay and silage or fodder. Even the fodder is tracked, to make sure it comes from organic farms only and contain no antibiotics or enhancers.