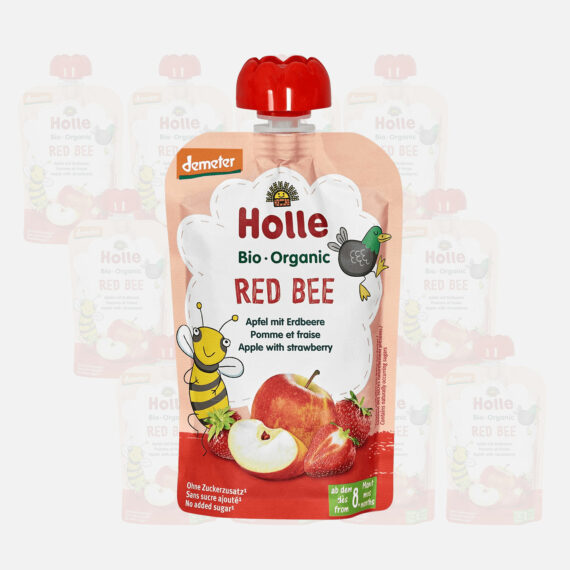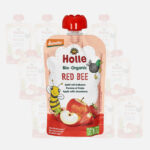 Apple with Strawberry
12x Holle Organic fruit puree Red Bee
$24.92 / kg
Organic
Biodynamic
Vegetarian
Vegan
Gluten-free
In stock
Use code WELCOME for additional 6% Discount
16
people are viewing this right now
Guaranteed safe & secure checkout
Red fruits such as apples and strawberries are incredibly nutritious for babies, and if you want to introduce these red fruits to your toddler, then go for Holle's organic fruit puree Red Bee. It is extremely nutritious and has all the goodness of red fruits. This organic fruit puree is ideal as a snack or meal for toddlers from 8 months onwards.
Nutrients per 100 g
Energy kj

177

kj

Energy kcal

42

g

Fat

< 0.5

g

of which

Saturated fatty acids

< 0.5

g

Carbohydrates

9.3

g

of which

Sugar

8.4

g

Protein

0.3

g

Salt

0.01

g

Minerals

Sodium

0

mg

(0

%

**

)
** Percent of the reference amount for daily intake
Exact product designation:
Apple** 82%, strawberry** 18%.
**Demeter (from biodynamic agriculture)
Please note the information on allergens.
Information about the manufacturer
Holle baby food AG
Lörracherstraße 50, CH-4125 Riehen

12x Holle Organic fruit puree Red Bee
Holle – Red Bee – Organic Fruit Puree with Apple & Strawberry
Organic fruit puree red bee is known for its red fruits, taste, and convenient pouch packing. It is best for parents looking for something interesting to snack on their toddlers from 8 months onwards. It is a delicious puree with maximum national benefits.
Apples and strawberries are rich in antioxidants, so they keep babies safe from cell damage. Quercetin in strawberries has anti-inflammatory properties. Similarly, Anthocyanins improve heart health. Apples are rich in fiberFiber: Fiber is the guardian of tiny tummies, promoting smooth digestion and overall gut health.This digestive…, so the baby's tummy will be happy after eating this fruit puree. Your baby will express less bloating and gas issues.
In addition, this puree comes in an easy-to-open and easy-to-close pouch. Take the puree according to the need, and then close the lid tight to put the pouch in the refrigerator. You can keep this natural and organic puree for up to two days in the fridge. Its freshness will not be affected, and you can serve fresh, wholesome puree to your baby every time. Whether you are going out with a baby or staying at home, this pouch is easy to carry and store. This pouch is itself BPA-free, so parents should worry about the quality of the pouch and the puree's freshness.
Holle – Red Bee – Organic Fruit Puree: Product Overview
Consist of two ingredient apples and strawberries.
No added sugar

Sugar Sugar is the sweet essence children often crave, providing instant energy for their play-filled moments.Though…

or flavor
Nutritious and appetizing for babies
No artificial color enhances the appearance
Smooth in texture to easily digest
Convenient BPA-free pouch packing
Easy to open and close
Gluten and dairy free
Ideal as a meal or snack
Dairy and gluten-free
Ideal as a snack or meal
Holle Organic Fruit Puree Red Bee: Clean Ingredients
Finding ready-made baby food without preservatives is really hard, but let me tell you, it does not rely hard when you have holes in organic fruit puree Red Bee. It consists of apples and strawberries. Both fruits are organic and sourced from biodynamic agriculture. It means these fruits are grown without pesticides and other harmful chemicals. So parents can use this fruit puree to fulfill daily nourishment needs. It is ideal as a snack or as well as best as a meal.
Apples are a powerhouse of nutrients and minerals. Strawberries are rich in antioxidants, so babies can have healthy minds and bodies. These two simple fruits make this puree tasty and whole, so parents can use it as a snack or meal according to preference.
Moreover, this puree is free from any kind of harmful ingredients. It doesn't contain additives and preservatives. Even no artificial color is added to this puree looks appetizing. This organic fruit puree is in its natural consistency and color without any thickening agent. This organic fruit puree is suitable for all babies with different nutritional needs.
Holle Organic Fruit Puree Red Bee: Top-Notch Health Benefits
Red Bee organic fruit puree is loaded with tons of vitamins, nutrients, and antioxidants. It offers the following health benefits to your little babies.
Apples are a powerhouse of vitamins. It improves digestion due to its high fiber

Fiber: Fiber is the guardian of tiny tummies, promoting smooth digestion and overall gut health.This digestive…

content. It also regulates bowel movements and relieves constipation
Vitamin C improves immunity to fight against bacteria and viruses. Both strawberries and 
Apples are rich in vitamin C.
Strawberries contain folate, which is important for brain development
Apples also have some amount of iron which is important for transporting oxygen throughout the body and supporting overall health.
Strawberries have anti-inflammatory properties, so babies are less likely to develop inflammation and skin diseases like eczema.
Holle Organic Fruit Puree Red Bee: About Holle and Final Verdict
Holle is a leading Swiss company and has more than eighty years in the baby food industry. They also have top-notch quality control over the process of baby food making. They have an expert team of nutritionists to make ideal combinations of fruits for puree. So all babies can get maximum nourishment. Holle's vision is to provide babies and toddlers with the best possible start in life. That's why they offer high-quality, organic baby food. Red Bee organic puree is the best example. They also support sustainable, biodynamic farming, that's why all the ingredients are sourced from biodynamic farming.
Overall Red Bee puree is wholesome and appetizing for babies. It is ideal for parents who want to introduce apples and strawberries to their babies in an interesting way. Whether you are a stay-at-home or working parent, red bees are the perfect choice for your babies. It's organic and made with natural fruits and your baby's nourishing partner.
There are no question found.