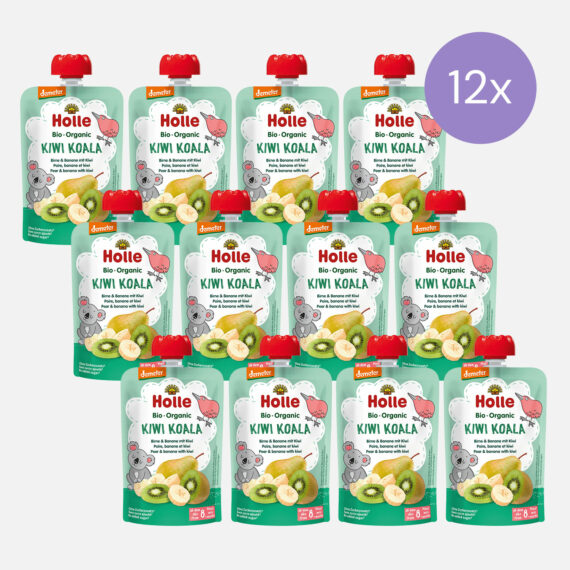 Pear & Banana with Kiwi
12x Holle Organic fruit puree Kiwi Koala
$24.92 / kg
In stock
15
people are viewing this right now
Guaranteed safe & secure checkout
When you look for the best baby food for your baby or toddler, you may get perplexed. There are various options, but how to choose the best one? Let me tell you, Holle organic fruit puree kiwi koala is the right choice for a baby. Whether you are trying to wean or looking for something nutritious for your baby, this puree is full of nutrition. Holle's organic puree kiwi koala flavor is great.
Nutrients per 100 g
Energy kj

262

kj

Energy kcal

62

g

Fat

< 0.5

g

of which

Saturated fatty acids

< 0.5

g

Carbohydrates

13

g

of which

Sugar

12

g

Protein

0.6

g

Salt

0.01

g
Exact product designation:
Pear * 60 %, Banana * 30 %, Kiwi** 10 %
*from biodynamic farming ** Demeter (From biodynamic agriculture)
Information about the manufacturer
Holle baby food AG
Lörracherstraße 50, CH-4125 Riehen
12x Holle Organic fruit puree Kiwi Koala
Holle – Kiwi Koala – Organic fruit puree with Pear, Banana and Kiwi
The yummiest fruit puree kiwi koala has the goodness of Pear, banana, and kiwi. These pouches are leak proof, so you can easily seal the remaining puree. The good news is that it comes in convenient pouch packing. Easy to use and reuse without being worried about storage. you can store the remaining puree in the fridge for up to two days.
Whether you are traveling or staying home, this organic puree will save you the hassle of making nitrous baby food. This puree is made of Demeter-certified natural ingredients, so you don't need to worry about its national value. In addition, this puree doesn't have any artificial flavors, additives, or sugar and preservatives, so feel satisfied while feeding your baby this puree. It's resealable packing keeps all goodness of ingredients and their nutritional value intact. It also saves you from the hassle of making bad food again and again. Use this Holle Organic Fruit puree kiwi koala as a snack or meal choice is yours.
Holle Kiwi Koala – Organic fruit puree: Product Overview
Pear banana and kiwi make a great combination for puree
All ingredients are natural and organically grown
No added sugar, only the natural sweetness of fruits
No preservatives and additives
No artificial colors and flavors. Real fruits for real taste and color
BPA free packaging
Resalable pouches for convenient storage
You can easily store it in the fridge or refrigerator
Holle Organic fruit pureee Kiwi Koala: Clean Ingredients
You know, the good thing about the kiwi koala is the great combination of highly notorious fruits. All these fruits are grown organically without pesticides and
artificial fertilizers. Sometimes you buy fruits from the supermarket to make a homemade puree, but you can't make sure whether they are organic or not. Here we assure you about the clean ingredients of this puree. Holle Organic Fruit Puree kiwi koala's all ingredients are clean and biodynamicaly grown.
This puree is an ideal meal or snack for your baby due to its highest nutritional value. Banana balances the tanginess of Pear and kiwi through its creaminess and sweetness. Organic puree kiwi koalas have ideal consistency, so you can use them for weaning purposes, also. No added sugar or flavor enhancers are part of this puree. So feel at ease, you are making the right decision and you're giving your baby or toddler the highest nutritional fruit puree, kiwi koala.
Banana is super fruits, and they contain magnesium and fiber. It improves gut health, and your baby can have easy bowel movements. Similarly, kiwis and peaches are enriched with vitamins C, k, and other minerals. So your baby will get almost all essential minerals and vitamins in the yummiest form.
Holle Organic fruit pureee Kiwi Koala: Top-Notch Health Benefits
Choosing the Holle Organic Fruit Puree kiwi koala is the right decision. Each of these fruits is a powerhouse of nutrients, including vitamins and minerals. This Holle Organic Fruit Puree kiwi koala provides you with the following benefits.
Banana has a good amount of fiber, so it improves digestion and gut health.
Bananas also conation bone-healthy nutrients and miners to improve bone density
Kiwi is a great source of vitamin C, so it not only boosts immunity by stretching the immune system against viruses and bacteria.
Peaches also have vitamins C and A and C, which are essential for healthy growth and development in babies.
All the fruits are real and organically grown. So you can expect maximum nutrition.
Holle Organic fruit pureee Kiwi Koala: About Holle and Final Verdict
Holle is a Swiss-based company and they have been in baby food for 85 years. They have top-notch technology and the highest expertise in making baby foods. They have an expert team to choose the right combination of fruits to provide the maximum nutrition to your little ones, and Holly Kiwi koala puree is one of its examples.
They believe in suitability, so they work closely with their suppliers to ensure that the ingredients they use are grown and harvested in a sustainable and natural environment. They don't compromise quality. That's why they offer high-quality, organic baby food that is nourishing and appetizing.
Above all, Holle-kiwi koala puree is the best option for all conscious parents who want to give their babies heist nutrition in every meal. Whether you're a busy working parent or staying at home, Holle's organic kiwi koala puree is one of the best options. Easy to use, convenient to store, and full of neutrinos, what else parents need for their babies.
There are no question found.