from 10 months (600g)
HiPP German Organic Combiotic Stage 3 – Follow-on Formula
$53.17 / kg
In stock
16
people are viewing this right now
Guaranteed safe & secure checkout
Hipp Organic Combiotic Stage 3 is a follow-on formula for babies over 10 months of age. It is made with organic milk and contains a blend of prebiotics and probiotics to support the development of a healthy gut microbiome. The formula also includes Metafolin, a form of folic acid that is easily absorbed and utilized by the body. This formula is easy to digest and is fortified with essential vitamins and minerals to support the continued growth and development of toddlers. Stage 3 formula is formulated to meet the specific nutritional needs of toddlers as they transition to solid foods and continue to grow.
Contains: Fish and fish derivatives, Milk and milk derivatives
Nutrients per 100 ml
Energy kj

285

kj

Energy kcal

68

g

Fat

3.7

g

of which

Saturated fatty acids

1.6

g

of which

Polyunsaturated fatty acids

< 0.5

g

of which

Monosaturated fatty acids

1.6

g

of which

Docosahexaenoic acid (DHA)

14

mg

of which

Linoleic acid

420

mg

of which

Alpha Linolenic acid

60

mg

Carbohydrates

7.1

g

of which

Lactose / Milk Sugar

5.5

g

of which

Sugar

5.7

g

of which

Starch

1.4

g

Fiber

0.4

g

of which

Galactooligosaccharides (GOS)

0.4

g

Protein

1.4

g

Vitamins

Vitamin A

56

µg

(0

%

**

)

Vitamin E

0.8

mg

(0

%

**

)

Vitamin C

10

mg

(0

%

**

)

Vitamin K

3.9

µg

(0

%

**

)

Pantothenic acid

0.35

mg

(0

%

**

)

Thiamine

0.051

mg

(0

%

**

)

Riboflavin

0.14

mg

(0

%

**

)

Niacin

0.53

mg

(0

%

**

)

Vitamin B6

0.042

mg

(0

%

**

)

Folic acid

11.3

µg

(0

%

**

)

Vitamin B12

0.1

µg

(0

%

**

)

Biotin

1.6

µg

(0

%

**

)

Minerals

Potassium

88

mg

(0

%

**

)

Calcium

77

mg

(0

%

**

)

Phosphorus

44

mg

(0

%

**

)

Magnesium

6.3

mg

(0

%

**

)

Iron

1

mg

(0

%

**

)

Zinc

0.5

mg

(0

%

**

)

Copper

0.054

mg

(0

%

**

)

Manganese

0.007

mg

(0

%

**

)

Fluorine

0.01

mg

(0

%

**

)

Selenium

3.9

µg

(0

%

**

)

Iodine

15

µg

(0

%

**

)

Sodium

20

mg

(0

%

**

)

Further information

Chloride

52

mg

(0

%

**

)
** Percent of the reference amount for daily intake
Exact product designation:
Organic follow-on formula
Skim Milk*, Vegetable Oils* (Palm Oil**, Rapeseed Oil*, Sunflower Oil*), Lactose*, Starch*, Whey Product*, Galactooligosaccharides* From Lactose*, Fish Oil¹, Calcium Carbonate, Emulsifier Lecithin*, Potassium Chloride, Calcium Orthophosphates, Sodium Chloride, Magnesium Carbonate, L-Tryptophan, Vitamin C, Ferrous Sulfate, L-Cystine, Natural Lactic Acid Culture (Lactobacillus Fermentum Hereditum®²), Vitamin E, Niacin, Zinc Oxide, Pantothenic Acid, Copper Sulfate, Vitamin A, Vitamin B6, Vitamin B1, Potassium Iodate, Metafolin (Calcium L-Methylfolate), Sodium Selenate, Vitamin K, Vitamin D, Manganese Sulfate, Biotin
* From organic production
** Organic palm oil from sustainable cultivation certified by independent inspection bodies
¹ Contains DHA (required by law for infant formula)
² Lactobacillus fermentum CECT5716
Please note the information on allergens.
Information about the manufacturer
HiPP GmbH & Co. Vertrieb KG
D-85273 Pfaffenhofen
Breastfeeding is the best nutrition for your baby, because breast milk provides your child with all the essential nutrients it needs for growth and development. Please consult your pediatrician if your child requires supplemental feeding.
HiPP German Organic Combiotic Stage 3 – Follow-on Formula
HiPP Organic Combiotic Stage 3 – from 10 month
HiPP German Organic Combiotic Stage 3 – Follow-On Formula is a power-packed, energy and nutrient-enriched follow-on formula that can be given after HiPP German Stage 2 and Stage 1 formulas. It now contains Metafolin, which prevents folate deficiency in babies. The German organic infant formula contains all the necessary ingredients to help babies aged 12 months and older grow fit and healthy. This formula has been specially crafted to help babies transition into the toddler stage. Babies love the sweet taste of this formula, as it is made to replicate breast milk. HiPP German Organic Combiotic Stage 3 – Follow-On Formula comprises clean, healthy, and organic ingredients that impart maximum nutrition to them. The best aspect of this German infant formula is that it contains no allergens making it ideal for sensitive babies. When choosing HiPP German Organic Combiotic Stage 3 – Follow-On Formula, you choose the highest sustainability and quality. The formula is also quite easy to prepare and can be used as bottled milk or solid food.
It is vital to note that breastfeeding is still the best source of milk for babies. It provides babies with the best nutrition and helps strengthen the bond between mother and baby. If your baby cannot take breast milk, or you have decided to stop breastfeeding, then consult your pediatrician before switching to infant formulas. HiPP does not discourage breastfeeding at all. The company only imitates breast milk and focuses on providing ample nutrition to your baby.
HiPP Organic Combiotic Stage 3 – Now With Metafolin
HiPP German Organic Combiotic Stage 3 – Follow-On Formula now contains Metafolin in innumerable amounts. Metafolin is naturally found in breast milk and helps promote neural and brain development in babies. It also helps with DNA and RNA synthesis. Many formulas contain a synthetic version of folate, i.e., folic acid. Folic acid is not that effective for the body as it needs to be converted before use. Now, all infant formulas, especially HiPP formulas, contain Metafolin, which is easily metabolized in the body and imparts various health benefits to babies.
HiPP Organic Combiotic Stage 3 – Feed the Best Formula
By giving your child HiPP German Organic Combiotic Stage 3 – Follow-On Formula, you are making them get the highest quality and standard milk. Your baby will feel full and will not have any stomach issues. You will see your baby's health improving significantly within a few days.
Contains 100% European Union-certified milk.
Has Metafolin to prevent folate deficiency.
No animal or land cruelty.
GMO-free, soy-free, and gluten-free products.
Easily digestible and good for the tummy.
Provides maximum authentic nutrition.
Made within sustainable and strict European standards.
Free of preservatives, dyes, colors, or artificial sweeteners.
Ingredients added from organic sources.
Premium quality organic infant formula.
The trusted HiPP brand is loved by parents worldwide.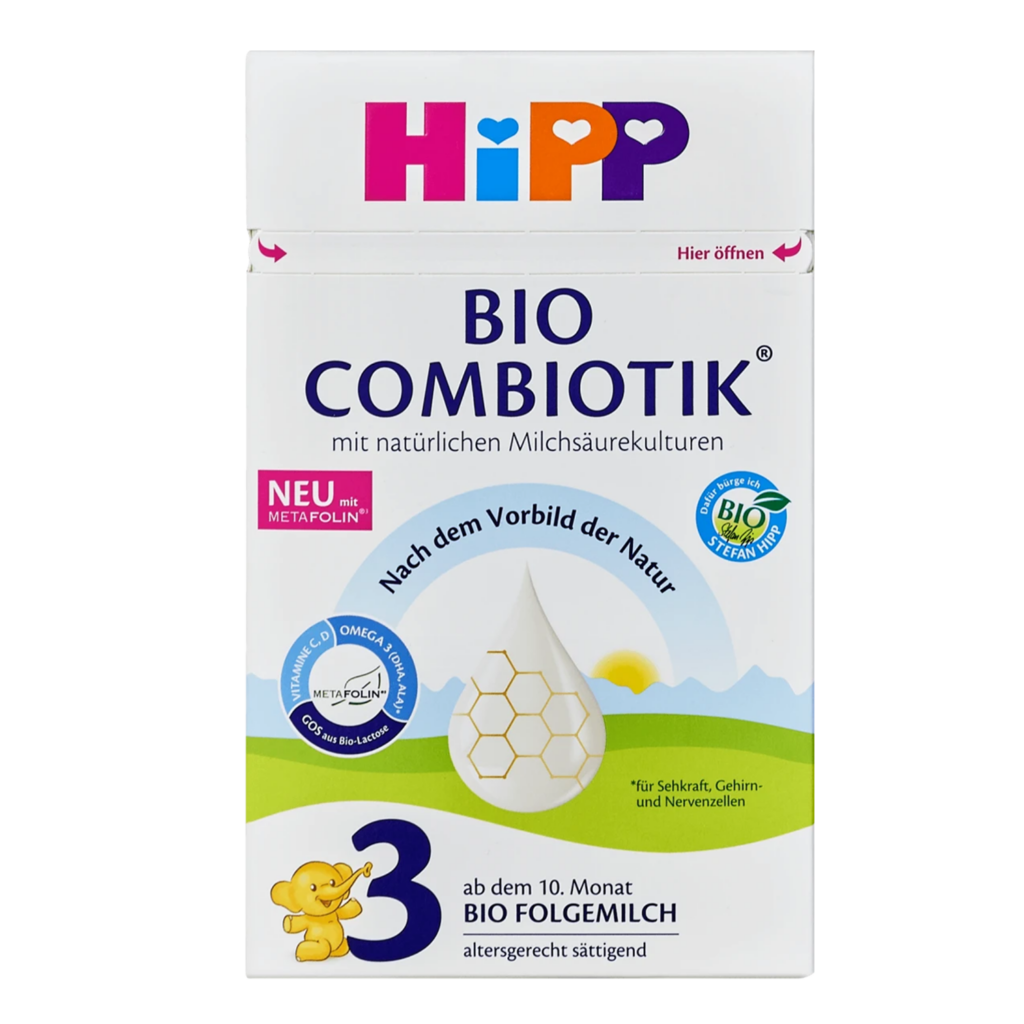 HiPP Organic Combiotic Stage 3 – Clean Ingredients And The Highest Level Of Sustainability
HiPP German Organic Combiotic Stage 3 – Follow-On Formula is an excellent infant formula designed to be a safe supplement for babies that nurse more regularly. This formula is perfect for those long-term breastfeeding mothers who need a gentle alternative to cow milk formula. The unique aspect of HiPP German Organic Combiotic Stage 3 – Follow-On Formula is that it contains natural probiotic lactic acid culture extracted from breast milk to improve your baby's gut health. The starch-free formula contains lactose as the primary carbohydrate found in breast milk. The nutrient levels are high, and it has no added sugar or artificial additives. The vitamins in HiPP German Organic Combiotic Stage 3 – Follow-On Formula is specifically selected to provide the most benefits for your child and their beneficial effects on their developing body. 
Some of the ingredients in HiPP German Organic Combiotic Stage 3 – Follow-On Formula is Vitamin D which prevents dental cavities and strengthens bones. Vitamin B12 helps protect against anemia. DHA and ALA, essential fatty acids, are crucial for a healthy brain, eyes, and neural development in babies. 
When it comes to sustainability, HiPP has no parallel. This European company employs the highest sustainability standards in the manufacturing and packaging process. When you purchase HiPP German Organic Combiotic Stage 3 – Follow-On Formula, you actively try to reduce waste and contribute to the world's sustainability.
HiPP Organic Combiotic Stage 3 – Comparison Of US Formula And European Formula
Learning about the differences between European and American brands is vital to better understand their composition and health benefits. Given the stringent European standards, European milk formulas are much better and healthier than American brands. They are crafted for a specific age group and contain crucial ingredients for a particular age.
The first difference lies in sweeteners. European brands add lactose as a primary carbohydrate and natural sweetener, since it is found in breast milk. Also, the European Union Commission requires that infant formulas contain at least 30% lactose as a primary source of carbohydrates. The commission also allows other carbohydrates such as maltodextrin, glucose, glucose syrup, and maltose. Another thing to note is that sucrose can only be added to those formulas that contain hydrolyzed proteins. Sucrose should make up 20% of total carbohydrates. Furthermore, these carbohydrates must be derived from gluten-free sources. American brands, on the other hand, have no such regulation. They add sucrose and corn syrup which are not suitable for babies. 
The second difference is in the composition of the ingredients in European and American brands. European brands add limited ingredients in the formulas, whereas American brands add limitless ingredients. At the same time, it may seem that American brands are better as they contain more ingredients, but this is not true. European brands only add ingredients suitable for particular age groups. They avoid adding ingredients that may impact a baby's health, such as guar gum, soy, etc., that are harmful to newborns. Such a scenario is not seen in American brands, as they contain endless ingredients regardless of age group.
The third difference is in the fatty acid composition. Due to their innumerable health benefits, European formulas must contain DHA and ARA fatty acids. American brands consider these fatty acids a voluntary choice. European brands also add prebiotics, such as Lactobacillus found in breast milk. American brands do not add these prebiotics and probiotics. 
The fourth difference is in the iron composition. The European brands add a minimum of 0.2 mg of iron in formulas, whereas American brands add at least 1 mg of iron. This is not good for babies as higher iron composition leads to neurodevelopment effects later in life. Moreover, European brands also have separate goat milk formulas for babies. American brands do not have goat milk formulas. Considering all these differences, you should give HiPP German Organic Combiotic Stage 3 – Follow-On Formula to your baby and see a stark difference in their health.
HiPP Organic Combiotic Stage 3 – For A Healthy Start In Life
HiPP German Organic Combiotic Stage 3 – Follow-On Formula contains no artificial colors, flavors, preservatives, or hydrogenated oils. It does not contain ingredients derived from GMOs. The German organic formula is a great alternative to breast milk and has the correct quantities of nutrients for older babies. It is suitable if replaced, or used, in addition to breast milk. 
HiPP German Organic Combiotic Stage 3 – Follow-On Formula is a great organic baby formula for giving your toddler a healthy start in life. This formula is based on cow's milk, but it has been specially formulated for infants with allergies, or sensitivities, to digesting cow or breast milk. This formula contains no added hormones or antibiotics, which means that you can feel confident in feeding your child this formula without worrying about them developing health problems later in life.
The most important thing about feeding your baby HiPP German Organic Combiotic Stage 3 – Follow-On Formula is that it is completely safe and natural. When used adequately, it does not cause any side effects, so there's no need to worry about anything, other than giving your little one the best possible start.
HiPP Organic Combiotic Stage 3 – Top-Notch Health Benefits
HiPP German Organic Combiotic Stage 3 – Follow-On Formula is the best cow milk-based German infant formula for your child. It offers the following health benefits to your baby.
Contains essential fatty acids DHA and ALA, crucial for neural and physical growth.
Contains calcium that strengthens the bones.
Vitamin B12 boosts a baby's immunity.
It improves the baby's digestion.
Contains essential nutrients that will enhance physical growth.
Makes children grow fit and healthy.
Metafolin prevents folate deficiency in infants.
Prebiotics and probiotics improve the gut.
Reduces allergies and is ideal for allergic babies.
Makes your baby feel full for a long time.
Boosts your infant's physical and psychological development.
HiPP Organic Combiotic Stage 3 – Easy Preparation
Now that you have bought HiPP German Organic Combiotic Stage 3 – Follow-On Formula, it is time to prepare the organic infant formula. It takes seconds to prepare the formula and give it to your baby. First of all, pour boiled water into the feeding bottle. Add the required amount of formula to the bottle. Shake the milk until it is thoroughly mixed and keep it under cold running water to bring it to a comfortable temperature. Give the milk to your baby a few times a day to satiate its need. You must ensure some health and hygiene practices when feeding your baby. Always boil the water every time you feed your baby. Boiling the water kills germs. It is always a good idea to boil the water rather than heat it in the microwave. The reason is, that microwave radiation may cause hot spots in the milk. Sterilize the feeding utensils in boiling water before use. If you want to prepare milk in advance, there are certain instructions you must follow. Always remember not to touch the nipple of the drinking bottle with your hands. Wash the utensils thoroughly with soapy water to ensure no residue is left after feeding the baby. Always prepare fresh milk for your baby and dispose of the remaining milk daily.
HiPP Organic Combiotic Stage 3 – Humane Animal Treatment
Taking care of animals is one of HiPP's first priorities. The European infant formula manufacturer employs sustainable and chemical-free farming by utilizing farms where cows are bred on grass pastures. The cows are given good treatment and are not subject to harsh practices. The latest equipment is used for milking and packaging. HiPP understands that babies need to get the best nutrition. Therefore, they use the best cows to produce the best quality milk worldwide. 
The animals are completely vaccinated and kept in good surroundings that make them healthy. The cows are not fed GMOs, steroids, or antibiotics. They are given natural food that ensures their health. HiPP keeps its cows in a cruelty-free environment, allowing them to roam freely.
HiPP Organic Combiotic Stage 3 – About HiPP
HiPP has been producing premium-quality infant formulas for the past 100 years. HiPP has been creating state-of-the-art infant formulas that have helped provide good nutrition to babies worldwide. HiPP also cares deeply about sustainability as it has completely eradicated unsustainable practices and has played a major part in making the earth green. The organic infant formulas are made with 100% EU-certified cow milk sourced from healthy cows.
The formulas also contain the exact nutrition the children of a particular age group need. HiPP sources ingredients from organic farms. HiPP's products comply with stringent European measures and contain quality ingredients.
There are no question found.