Pure Goat Formula: A Wholesome Alternative for Your Little One
Welcome to the world of Pure Goat, where nutrition and gentleness combine to create the perfect baby food! The brand focuses on providing a wholesome alternative to cow's milk and other goat's milk formulas, that make it stand out in the baby food arena.
Rich in Essential Nutrients to Support Growth.
Pure Goat baby food is not just a meal; it's a nutrient-rich experience for your little one! Specially formulated with goat's milk, it is packed with essential vitamins and minerals that are vital for your baby's development:
Vitamin D

Vitamin D: Often hailed as the "sunshine vitamin," Vitamin D is a beacon of bone health…

: Aids calcium absorption and promotes bone growth. Essential to ensure your baby develops a strong skeletal structure, protecting them against future diseases such as rickets.
Iron: Essential for healthy blood formation. Adequate iron is crucial to prevent anemia and support optimal growth during infancy.
Zinc: Supports the immune system and wound healing. Zinc also plays a role in normal growth and development during pregnancy, childhood, and adolescence.
B vitamins: Essential for energy production. Make sure your baby has plenty of energy to explore, learn and just be a baby!
Tummy-Friendly Goodness with Pure Goat
Celebrated for its ease of digestion, Pure Goat is a tummy-friendly option for your baby. Its unique composition provides a gentle journey through the digestive system, ensuring your little one gets the nutrients without the fuss: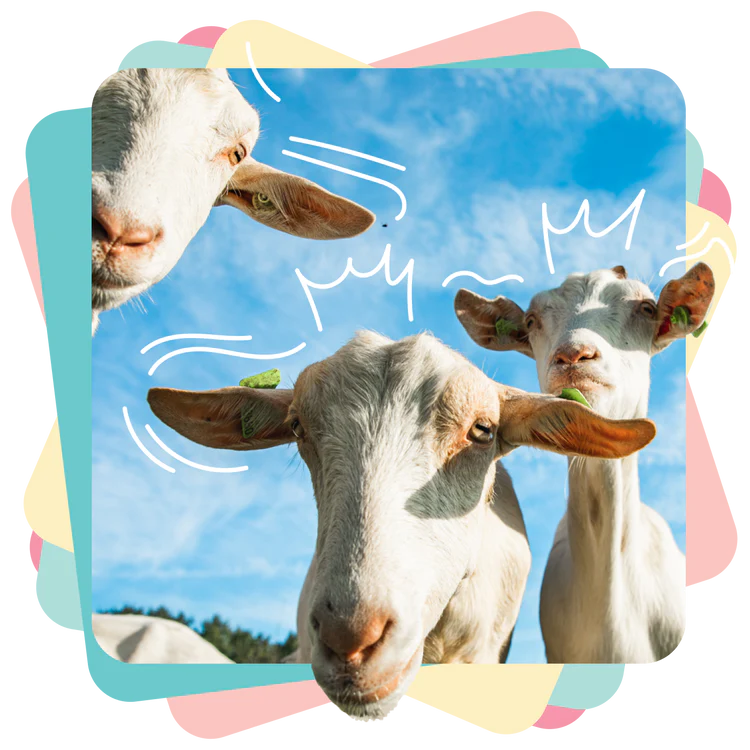 Less Alpha-S1 casein: Minimizes digestive discomfort. Lower levels of this protein

Protein: Proteins, often labeled as life's cornerstone, orchestrate a symphony of functions ensuring our children's robust…

mean less chance of irritation for sensitive little bellies.
Smaller fatFat: Fats aren't foes; they're foundational for children, underpinning brain development, energy supply, and vitamin absorption.In… More globules: Provides easier digestion. The small size of the fat globules in goat's milk allows for quicker and easier digestion.
A2 beta-casein: For little tummies. This protein is less likely to cause discomfort and adverse reactions in young children.
Soft Curds: Gentle and easy to digest. The curds formed by goat's milk during digestion are softer and gentler on your baby's stomach.
A Shield for Your Baby's Immune System
If lactoseLactose / Milk Sugar Lactose, fondly known as milk sugar, is the primary sugar in dairy,… More has been a hurdle in your baby's nutritional journey, Pure Goat aims to be the comforting alternative you've been looking for:
Low Lactose: A boon for sensitive tummies. The reduced lactose content minimizes potential digestive issues.
Milder Proteins: Pure Goat contains milder proteins, which are often easier for babies to digest if they are sensitive or intolerant to the proteins found in cow's milk.
Anti-Inflammatory and Skin-Friendly
Pure Goat gives the gift of clear, healthy skin thanks to its anti-inflammatory properties and skin-friendly nutrients:
Omega-3 Fatty Acids: Known to reduce inflammation and promote heart health.
Vitamin E

Vitamin E: Vitamin E stands tall as a cellular custodian, ensuring our children's cells remain robust…

: An antioxidant that helps protect cells from damage and supports healthy skin.
A Commitment to Sustainability and Quality with Pure Goat – European Baby Formula
Your baby deserves the best and so does our planet! Pure Goat is committed to providing the highest quality while protecting the environment:
Eco-friendly Practices: Pure Goat prioritizes sustainability and ensures all processes are as environmentally friendly as possible.
Quality Ingredients: Every jar of Pure Goat is packed with the highest quality ingredients, ensuring your baby gets nothing but the best.
Animal Welfare: Goats aren't just milk producers, they're our friends! Ethical treatment and animal welfare are at the forefront of Pure Goat's practices.
Embracing the Wholesomeness of Pure Goat
Choosing Pure Goat means choosing a gentle, nutritious and sustainable baby food for your little one. Pure Goat's commitment to quality, digestibility and wellness ensures that your baby is getting a wholesome meal every time. So let's take this beautiful journey together, with Pure Goat by your side, nourishing your baby every step of the way.
Choosing the Right Formula Stage
The premium European brands we stock, such as Kendamil, Holle, HiPP, and Pure Goat, ensure that newborns or toddlers get exactly what they need at each stage of their development.
We carry the following five stages:
Stage Pre: Birth to six months of age
Stage 1: Special infant formula from birth to six months
Stage 2: Follow-on formula from six months to 10 or 12 months
Stage 3: Infant formula from 10 or 12 months to 12 or 24 months
Stage 4: Infant formula from 12 months to 24 months
Choose goat's milk formulas for sensitive tummies to ensure your baby gets the right nutrients at the right time.
If you're considering goat milk because your baby seems to be having issues with cow's milk-based formula, it's essential to speak with a pediatrician. They can offer guidance on suitable alternatives.
The Baby's Best Food team is here to provide you with information and advice. However, since every child is unique, you should always seek the advice of your pediatrician when making decisions regarding your child's diet. Baby's Best Food does not guarantee the accuracy of the information provided here.