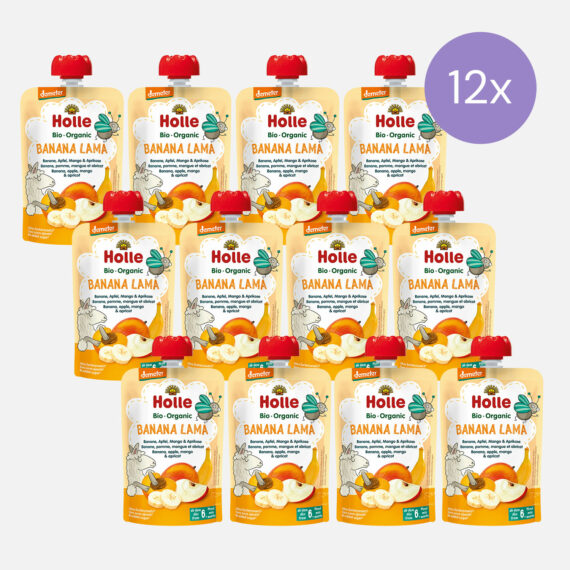 Banana & Mango with Aprico
12x Holle Organic fruit puree Banana Lama
$24.92 / kg
Organic
Biodynamic
Vegetarian
Vegan
Lactose-free
Gluten-free
In stock
24
people are viewing this right now
Guaranteed safe & secure checkout
You can use banana lama puree in babies from 8 months. It is the right nutritional and organic puree for well-established weaning. Similarly, if you are looking for something natural to snack on your babies, then again, the banana lama is here. This puree is wholesome and made of all organic ingredients, so suitable for six months and downward.
Nutrients per 100 g
Energy kj

263

kj

Energy kcal

62

g

Fat

< 0.5

g

of which

Saturated fatty acids

< 0.5

g

Carbohydrates

14

g

of which

Sugar

13

g

Protein

0.5

g

Salt

0.01

g
Exact product designation:
Banana* 46%, Apple* 33%, Mango* 14%, Apricot* 6,9%, Lemon Juice Conc.** 0,1%
*from biodynamic farming
** Demeter (From biodynamic agriculture)
Please note the information on allergens.
Information about the manufacturer
Holle baby food AG
Lörracherstraße 50, CH-4125 Riehen
12x Holle Organic fruit puree Banana Lama
Holle Banana Lama – Organic fruit puree with Banana & Mango with Aprico
Banana lama is an exotic combination of banana, apple, mango, and apricot. This delicious and appetizing fruit puree provides satiety between meals or can be used as a meal. If you are going out, banana lama fruit puree is ideal as a convenient portable snack.
It comes in convenient pouch packing. These pouches are easy to open and close. The resealable pouches are leakproof, so don't worry; you can easily carry these pouches with you while traveling out with babies. Moreover, you can put the remaining puree pouch in the refrigerator for up to 2 days. BPA-free and resealable packing keeps the goodness of puree intact. So every time you open the pouch, feed your baby fresh and nutritious purees.
Parents who are always worried about the nutrition of their babies can easily opt for banana lama fruit puree. Banana lama fruit puree is a nutritious blend of banana, apple, mango, and apricots; every fruit offers nutrition and many health benefits to babies. So parents can easily fill the daily nutritional needs of babies.
Holle Banana Lama – Organic fruit puree: Product Overview
All fruits are natural, real, and organic
No flavor enhancers or added sugar/ slat
Resealable convenient to carry pouches
BPA free packing
Easily digestible and improves digestion
Perfect for well-established weaning
Ideal snaking for beyond toddler age
Quick and easy to serve
Zero preparation time
Holle Organic Fruit Puree Banana Lama: Clean Ingredients
It's really hard to find baby food without artificial ingredients. Banana lama fruit puree doesn't matter conation any artificial or harmful ingredients. All fruits are natural and Demeter certified, so this puree comes in a natural taste. Demeter-certified ingredients in Holle Organic banana lama Fruit Puree are high-quality and sustainably produced fruits without 
Synthetic pesticides and fertilizers. So these fruits are highly nutritious to add baby food like a banana lime puree.
 No thickening agent or flavor enhancers are used to make this puree more appetizing, so conscious parents can give this puree without any fear; it is 100 percent natural.
This puree doesn't contain any added sugar or salt, so parents can easily give it to the babies for better nourishment. No preservatives or additives improve the shelf life of the puree, so that's why you can only keep this puree for two days in a refrigerator. Banana lama puree not only contains bananas but also apples, mangos, and apricots, so its nutritional value is extremely high. All organic and natural ingredients make this fruit puree ideal among all other ready-made baby foods.
Holle Organic Fruit Puree Banana Lama: Top Notch Benefits
This appetizing and wholesome puree offers the following benefits to your little one.
Banana lama Puree not only has bananas but also approach, apples and mango. This delicious, heavenly puree offers the following benefits.
Banana makes this puree more creamy; its fiber improves digestion and prevents constipation.
Apricots are a powerhouse of nutrients and dietary fiber. It provides a good amount of vitamins A and C. vitamin c boosts immunity while a supports healthy vision.
Mango is a high source of fiber vitamin, c, and k, which not only helps in better digestion but gives a natural sweetness to puree. 
Its fiber content regulates bowl moves so the baby can easily poop.
Apple is also a good source of vitamins and minerals. It also improves the puree taste and texture
On the whole all fruits have good fiber content and natural sweetness, so the puree is delicious and wholesome.
Without any artificial ingredients, baby real fruit puree.
Holle Organic Fruit Puree Banana Lama: About Holle and Final Verdict
Holle is a Swiss company from 1933 and has been dedicated to producing high-quality, organic baby food ever since. Holle's mission is to provide babies with the best possible nutrition by using the highest quality, organic ingredients. They believe that every baby deserves to start life with the best possible nutrition. So they are committed to producing not baby food but also supporting sustainability and environmental responsibility.
In line with this mission, Holle's vision is to be a leader in the organic baby food industry, promoting healthy eating habits and supporting sustainable agriculture practices.
 Banana LMA is a combination of highly nutritious fruits that not only give your baby a little stomach satiety but also fulfill this nutritional need. It is also ideal for picky parents who are always concerned about the ingredients and freshness. Its convenient resealable pouch makes its storage so easy. Over banana lama is the best organic fruit puree to use as a snack or meal.
There are no question found.