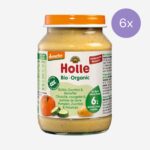 from 6 months (6x190g)
6x Holle Organic Jar Pumpkin, Zucchini & Potatoes
$23.60 / kg
Organic
Biodynamic
Vegetarian
Vegan
Lactose-free
Gluten-free
In stock
17
people are viewing this right now
Guaranteed safe & secure checkout
From the 6th month onwards, Holle's Organic Jar of Potatoes, Peas, and Zucchini presents a delightful and balanced vegetable blend for your baby. Crafted with biodynamic ingredients, it supplies crucial nutrients for healthy growth.
Nutrients per 100 g
Energy kj

136

kj

Energy kcal

32

g

Fat

< 0.5

g

Carbohydrates

6.1

g

of which

Sugar

1.8

g

Protein

1.1

g

Salt

0.05

g
Exact product designation:
Organic vegetable preparation, pumpkin, zucchini & potatoes
Information about the manufacturer
Holle Europe GmbH
Berner Weg 23
D-79539 Lörrach

6x Holle Organic Jar Pumpkin, Zucchini & Potatoes
Holle Organic Jar: Pumpkin, Zucchini & Potatoes – A Luscious Vegetable Fusion
Early nutrition significantly influences a child's growth. The Holle Organic Jar of pumpkin, zucchini, and potatoes offers just that: a wholesome, biodynamically farmed meal curated for babies from the 6th month onward. The combination of these vegetables ensures not only a variety of tastes babies will relish but also provides a plethora of nutrients crucial for their growth and overall development. Each jar is meticulously crafted to ensure all essential vitamins and minerals remain intact. With no artificial additives or preservatives, Holle takes pride in offering parents a safe and nutritious option for their precious ones. When it comes to your baby's well-being, trust in Holle's commitment to organic excellence.
There are no question found.