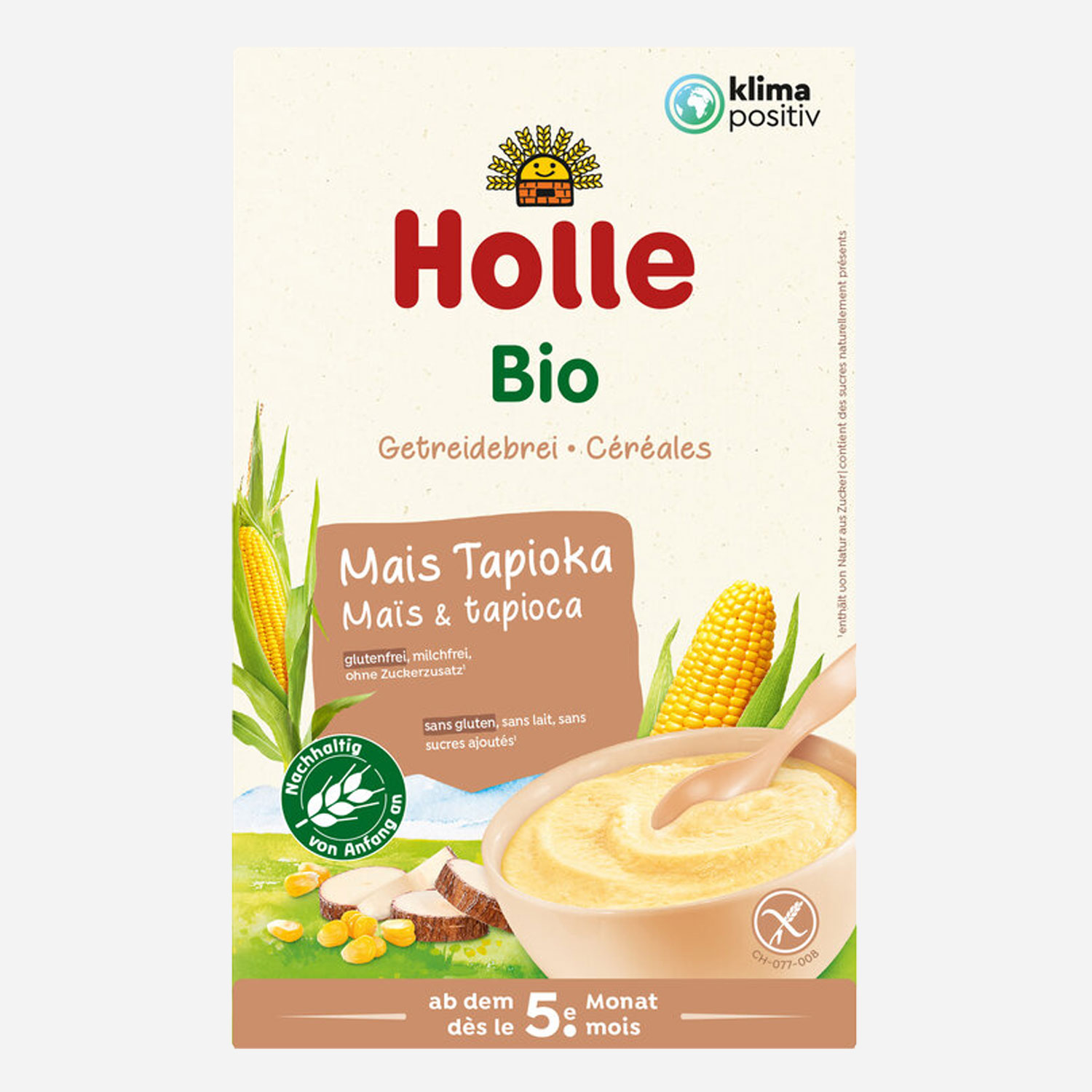 from 5 months (250g)
Holle Organic Corn Porridge with Tapioca
$39.60 / kg
Out of stock
Want to be notified when this product is back in stock?
20
people are viewing this right now
Guaranteed safe & secure checkout
The wholegrains used in Holle Porridges are in an easily digestible form, which is particularly suitable for babies. The goodness of the grain is gently unlocked with heat and moisture ready for your baby's growing body. Using the wholegrain means we can retain the most nutrients.
Contains: Corn and corn derivatives
Nutrients per 100 g
Energy kj

1611.92

kJ

Energy kcal

358

g

Fat

1.9

g

Carbohydrates

82.5

g

of which

Sugar

0.6

g

Fiber

3.3

g

Protein

7.9

g

Vitamins

Thiamine

1.09

mg

(0

%

**

)

Salt

0.01

g
** Percent of the reference amount for daily intake
Exact product designation:

Corn flour* 74%, whole grain rice flour* 17%, tapioca* 9%, thiamine (vitamin B1)
*from organic farming
Please note the information on allergens.
Information about the manufacturer
Holle baby food AG
Lörracherstraße 50, CH-4125 Riehen
Holle Organic Corn Porridge with Tapioca
Holle Organic Porridge with Maize & Tapioca
Holle organic baby corn and tapioca porridge is made using whole grains, which are in an easily digestible form and is suitable for babies 4 months onwards and for when beginning to wean as a part of mixed diet. The grains used in Holle porridges are carefully selected and are gently unlocked with heat and moisture, ready for your baby's growing body. By using wholegrain the most nutrients are retained providing a valuable foundation for a full-fledged diet, particularly in infants and small children. Holle porridges offer different variations on preparations for different diets.
Babies 5 months old and up will enjoy this Organic Baby Porridge with Corn & Tapioca. The porridge is made with carefully selected organic cereals that are processed with heat and moisture. The porridge can be served in many ways and is a great option for versatile, delicious, and nutritious meals.
Organic Maize Porridge with Tapioca from Holle
Holle organic tapioca and corn porridge is enriched with thiamin (vitamin B1) which is important for proper cell function and helps to promote healthy growth and development in babies and children. This low-allergen cereal is gluten, egg, and lactose-free and contains no added sugar.
With corn, rice and tapioca, just the right amount of vitamin B1, and nothing else
Milk-free
100% whole grain rice
With no added sugar, salt, spices or flavourings
There are no question found.